CEO and Co-Founder of MEMS Drive Visits Neville Technology
---
On the afternoon of Wednesday, August 8, 2018, Colin Kwan, CEO and co-founder of MEMS Drive, and his party visited Neville Technology. Neville Technology Chairman Yang Yunchun and relevant senior executives of the company received them.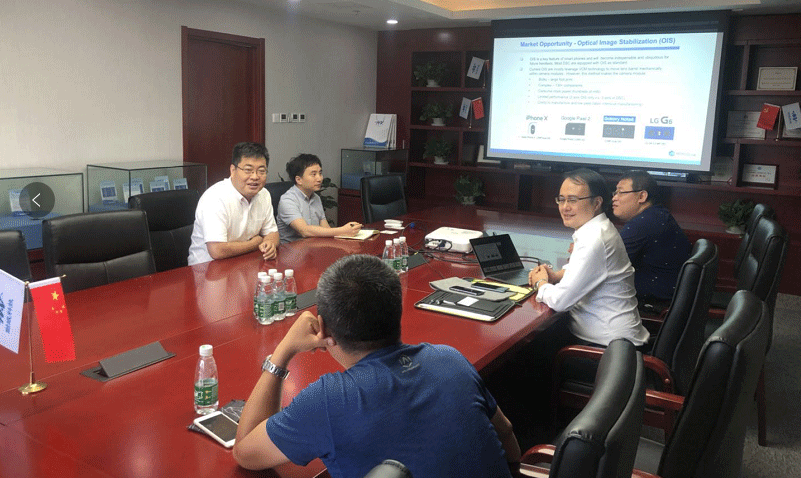 MEMS Drive is a customer of Neville Technology and an actuator Fabless manufacturer based on MEMS technology. It focuses on optical image stabilization technology (optical image stabilization, OIS) for mobile device applications and aims to replace the current mainstream voice coil motor technology (VCM) with its image stabilization chip based on MEMS technology. MEMS Drive is currently cooperating with and obtaining investment from Chinese mobile phone manufacturer OPPO. OPPO used MEMS Drive's technology to release a camera phone with image stabilization function at the 2016 Global Mobile Conference (MWC). MEMS Drive demonstrated its first global only chip-level optical anti-shake technology-MEMS OIS at the 2018 International Consumer Electronics Show (CES), and demonstrated the all-round five-axis anti-shake effect of the technology applied to mobile phones.
Although there has been a business cooperation relationship before, today is MEMS Drive's first visit to Neville Technology Headquarters. MEMS Drive CEO Colin Kwan introduced in detail the main advantages of MEMS OIS to Neville Technology Chairman Yang Yunchun and relevant senior executives of the company, including "SLR camera-level all-round 5-axis anti-shake", "sub-pixel-level precision anti-shake" and "low-light environment, ultra-low noise", "faster imaging calculation", "better dual camera application", "ultra-low energy consumption saving" and "high production yield" are also introduced. The progress of cooperation between MEMS Drive and mobile phone manufacturers such as OPPO, VIVO, Huawei, Google, Apple, LG and module manufacturers such as Shunyu Optics is also introduced.
Chairman of Neville Technology Yang Yunchun and MEMS Drive CEO Colin Kwan reviewed the cooperation process between the two sides and fully communicated the progress of the ongoing cooperation projects. Chairman Yang Yunchun expressed his appreciation for the technological breakthrough and rapid development of MEMS Drive in recent years, and introduced to Colin Kwan the capacity upgrade of Neville Technology's Swedish MEMS production line and the construction of the "8-inch MEMS International OEM Line" under construction in Beijing. Neville Technology's Swedish MEMS production line is being upgraded and is expected to be completed and increased by about 20% by the end of 2018; the MEMS production line under construction in Beijing is expected to be trial-produced in Q3 in 2019 and will be officially put into production in 2020. Technology transfer and personnel training are in progress. Chairman Yang Yunchun said that Neville Technology has the world's leading MEMS process development and wafer manufacturing platform, and is preparing for the mass production of MEMS sensors and the Internet of Things industrial revolution. Neville Technology not only serves giant customers in the fields of biomedicine, industrial science and communication, but also welcomes emerging Fabless manufacturers in the field of consumer electronics similar to MEMS Drive, it is believed that the two sides can reach more cooperation in the emerging consumer electronics field in the future.
---