International Integrated Circuit Industry Summit Big Cafe Gathering, Neville Technology Gallium Nitride Project Introduces Strategic Investors
---
On July 5, the 2018 International Integrated Circuit Industry Investment (Qingdao) Summit was held at the Qingdao International Conference Center. The summit was organized by Jimo District People's Government, Qingdao Urban Construction Investment (Group) Co., Ltd., and Walden Co-hosted by International, supported by Qingdao Municipal Economic and Information Technology Commission and Qingdao Municipal Government SASAC.
With the theme of "Core Dream and New Kinetic Energy", this summit invited 400 elites from all walks of life from domestic and foreign integrated circuit industry politics, production, learning, research and use to gather in Qingdao to discuss the new ecology and new hot spots of integrated circuit industry development at home and abroad, tap the advantages and opportunities of Qingdao in integrated circuit industry, and build an advanced industrial cluster of integrated circuit innovation and green development in Qingdao, help Qingdao accelerate the transformation of new and old kinetic energy major projects.
Mr. Zhou Zixue, Chairman of China Semiconductor Industry Association, Mr. Ding Wenwu, General Manager of National Integrated Circuit Industry Investment Fund, Mr. Chen Liwu, Chairman of Walden International, and other domestic and foreign leaders in the integrated circuit industry delivered speeches successively. Professor King Liu, Vice President and Tsu-Jae of the Board of Directors of the University of California Berkeley, and Dr. Huang Qing, Managing Director of Walden International, delivered keynote speeches at the summit, the future development trend of integrated circuits and related industries is expounded from different angles.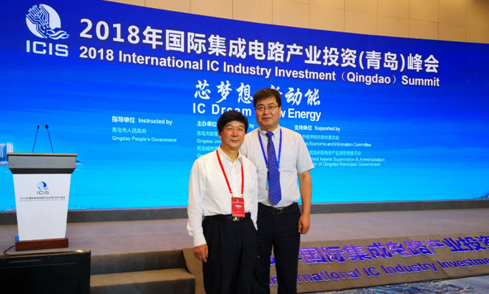 Mr. Ding Wenwu took a photo with Mr. Yang Yunchun
Mr. Yang Yunchun, Chairman of Naiwei Technology, and Mr. Ding Wenwu, General Manager of National Integrated Circuit Industry Investment Fund, exchanged views on the current situation and development trend of China's integrated circuit industry, the development pattern of characteristic integrated circuit MEMS industry, and the development status of the third generation semiconductor materials; with Professor King Liu, academician of the National Academy of engineering, vice president and Tsu-Jae of the board of directors of the University of California Berkeley, the international integrated circuit industry trends, competition and cooperation between China and the United States integrated circuit industry were discussed.
Tsu-Jae Professor King Liu and Mr. Yang Yunchun
At this summit, witnessed by Mr. Ding Wenwu and others, Jimo District People's Government and Qingdao City Investment Group signed cooperation agreements with world-renowned semiconductor companies such as Neville Technology, Teruis and Silicon Lijie, in the Qingdao Microelectronics Industrial Park located in Jimo District, a 12-inch advanced analog chip integrated circuit industrial base, OLED panel equipment manufacturing, third-generation semiconductor material gallium nitride and other projects will be built. Through the introduction of high-end projects, an industrial cluster will be gradually formed. Build Qingdao into a national integrated circuit industry base, make Qingdao into the first camp of the global analog industry, and create Qingdao's "core" business card.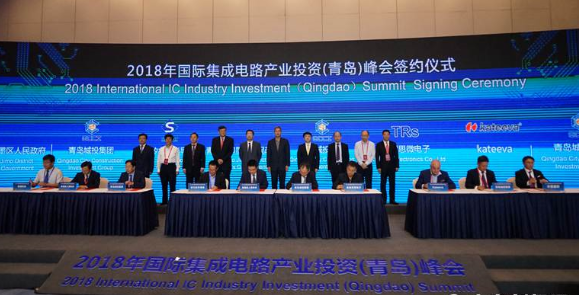 The third generation semiconductor materials mainly include silicon carbide (SiC), gallium nitride (GaN), diamond, etc. Because its forbidden band width (Eg) is greater than or equal to 2.3 electron volts (eV), it is also used as a wide forbidden band semiconductor material. Compared with the first and second generations, the third generation semiconductor materials have the advantages of high thermal conductivity, high breakdown field strength, high saturated electron rate, etc, it can meet the new requirements of modern electronic technology for harsh conditions such as high temperature, high power, high voltage, high frequency and anti-radiation. The close cooperation between Naiwei Technology and Qingdao Jimo and Qingdao City Investment on the investment and landing of projects related to the energy gathering crystal source of its holding subsidiary will help the company speed up the design, development and production of third-generation semiconductor materials, especially gallium nitride (GaN) epitaxial materials, and help the company grasp the opportunities for industrial development and expand the promotion and application of related materials in national defense equipment, avionics, 5G communications, Internet of Things and other fields as soon as possible, it is conducive to the comprehensive layout of "material-chip-device-system-application" carried out by the company with sensing as the core, grasp the development opportunities of the third-generation semiconductor material industry, and improve the company's comprehensive competitive strength.
---