Sweden's wholly-owned subsidiary, Silex, rose in global MEMS foundry ranking.
---
In August 2015, the company launched the acquisition of Sweden's Silex Microsystems AB, the world's leading pure MEMS contract manufacturer, and achieved 98% holding in July 2016 and 100 percent holding in September 2016. Since the acquisition, the company has achieved good integration with Sweden Silex, which fulfilled its performance commitment with an overall completion rate of 133.42 per cent for the performance commitment period 2015-2017.
According to statistics from Yole Development, the world's authoritative semiconductor market research organization, from 2012 to 2016, the company's wholly-owned subsidiary, Sweden Silex, ranked fifth in the global MEMS foundry revenue. Area

A is a typical IDM enterprise foundry, Area B is a typical CMOS foundry, and Area C is mainly a pure MEMS foundry and other smaller foundry. As shown in the figure above, there are significant differences in volume among different types of MEMS foundries. IDM and CMOS foundries such as STMicroelectronics (STMicroelectronics), Sony (Sony) and TSMC (TSMC), by virtue of their capacity scale advantages, mainly for a few types of high-volume shipments of products, such as silicon microphones, pressure sensors and inertial sensors. Excluding the above-mentioned MEMS foundries related to high-volume shipments, Silex ranks second in the remaining MEMS foundry market and is a leading company.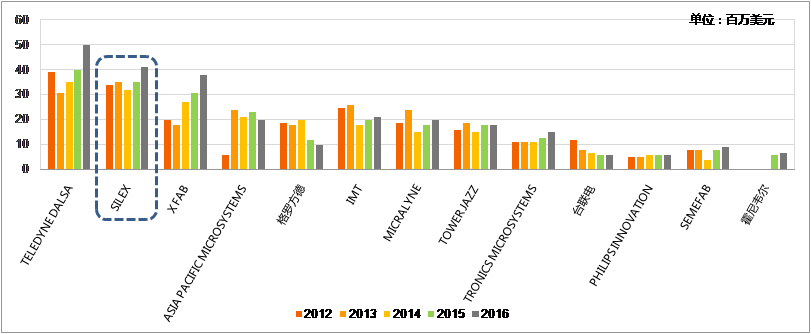 According to the latest statistics from Yole Development, thanks to the rapid development of the Internet of Things industry, the global demand for MEMS sensors is strong, and MEMS designers and manufacturers have achieved rapid growth. In 2017, SILEX, a wholly-owned subsidiary of the company, surpassed TSMC and SONY in the global MEMS foundry revenue ranking, ranking third from fifth in 2016. After DALSA in STMicroelectronics and TELEDYNE. In the field of pure MEMS foundry continues to maintain the world's second, followed by TELEDYNE DALSA.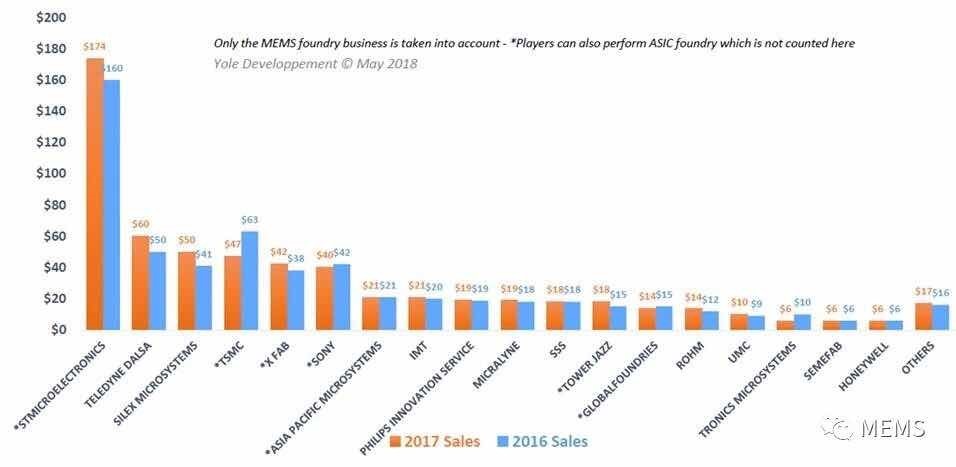 Yole Development summarizes and lists nine major trends that affect our present and future:(1) smart cars (electrification, driverless, smart connected cars, etc.);(2) mobile phones (novel and improved social experience, augmented reality experience, etc.);(3) 5G with increased bandwidth;(4) Ultra-large-scale data center, to deal with the increasing massive data of the Internet;(5)AR/VR (Augmented Reality/Virtual Reality) brings immersive experience;(6)AI/ML (Artificial Intelligence/Machine Learning) brings more intelligent human-computer interaction;(7) More intelligent voice processing smart homes, self-driving cars, etc. (8) Smart Medical Care (Healthier Life);(9) Industrial 4.0/smart factories (connected factories that use various sensors to improve production efficiency). These megatrends will bring huge market opportunities for electronics, especially MEMS and sensors.
Take the big trend in the mobile phone industry as an example. The market drivers mainly include: the arrival of 5G with increased bandwidth, continuously improving display technology (higher resolution, better video quality, enhanced contrast/brightness, etc.), new design, augmented reality, smaller size and more sensing functions. These megatrends will drive the rapid development of MEMS and sensors. On the smartphone side, there will be a large number of new types of sensors: inertial sensors, 3D optical sensors, IR (infrared) sensors, environmental sensors, fingerprint recognition sensors, spectral sensors, and optical MEMS (such as autofocus and/or micro-projection). In addition, in order to reduce the device size, the application of wafer level packaging (fan-out) will further increase.
When 5G really arrives, the demand for RF (radio frequency) filters will grow further, and the fastest growing MEMS field will be RF MEMS(BAW filters). In addition to MEMS and sensors, 5G operating frequencies require new materials such as GaN-on-SiC (gallium nitride on silicon carbide), GaN-on-Si (gallium nitride on silicon), SiGe (silicon germanium for low noise amplifiers) and GaAs (gallium arsenide for power amplifiers).
---