Sensor Intelligence: Data Fusion Artificial Intelligence to Drive the $100 Billion Market by 2023
---
The speakers and attendees participating in this event enthusiastically discussed the powerful sensor ecosystem currently developing in Europe. For example, we recently reported that an alliance is developing mid-infrared photon sensors for detecting gas leaks. British researchers have designed a device that can pair handheld CMOS sensors with Android mobile phone App, which can easily measure chronic heart disease or prostate cancer at low cost. Earlier this year, we also reported on Oura Health, which encapsulates PPG sensors in a ring to measure various heart rate parameters, while Oticon integrates sensors and processing capabilities in its hearing aid products to expand other functions beyond hearing aid.
At this year's summit, industry leaders such as Bosch Sensortec, Infineon, NXP and STMicroelectronics highlighted their diverse sensor solutions for applications ranging from wearable technology to self-driving cars, its technology showcases and provides a platform for innovative or emerging companies developing sensor technologies such as MirSense, IRLYNX, Xenomatix and Tusk ICs. Jean-Marc Chery, president and chief executive of
stmicroelectronics, delivered a keynote speech at the opening. he mentioned that although Europe has not achieved a leading position in the next generation of communications, "we are expected to win a victory in connecting 500-60 billion devices for intelligent autonomy, intelligent cars, intelligent cities, intelligent factories and medical care."
Obviously, this part is related to ST's focus on the core automotive and industrial markets, but it also reflects the fact that Europe still plays a key role in R & D for many of the building blocks of these vertical industries.
This annual conference is actually divided into two parts: one part discusses MEMS sensors, and the other part focuses on image sensors. But from the perspective of the ultimate intention and goal, it is a conference about sensors, and the key to sensor fusion is to emphasize that the system does not only depend on one sensor, but must rely on multiple sensor inputs. Whether it's a self-driving car, a smart city, a smart factory, or healthcare, sensor subsystems typically contain multiple sensor types from different sources-measuring parameters such as temperature, pressure, proximity, and location, as well as various chemicals and gases to enable a closed-loop system for tracking, interpreting, and feeding back relevant information.
This is most obvious in the automotive industry. It is necessary to deploy a combination of vision, radar and other sensors at the same time to help developers ensure that users can safely drive their vehicles in autonomous mode.
Lars Reger, senior vice president and technical director of the electronics division of NXP, said that sensors occupy the most important semiconductor value in autonomous vehicles, and in order to ensure absolute safety, the combination of vision and radar sensors provides passengers with greater confidence. Luc Bourgeois, head of advanced driver assistance systems (ADAS) and autonomous driving systems engineering at Renault (Renault), also talked about the need to use complementary sensor technologies including car-to-X, radar, lidar, cameras and ultrasonic sensors. He emphasized the role of sensor fusion in constructing a digital representation of the perceived world, not only to help improve mastery, but also to further decision-making and risk analysis, especially the role of big data (Big Data) and artificial intelligence (AI) in achieving this goal.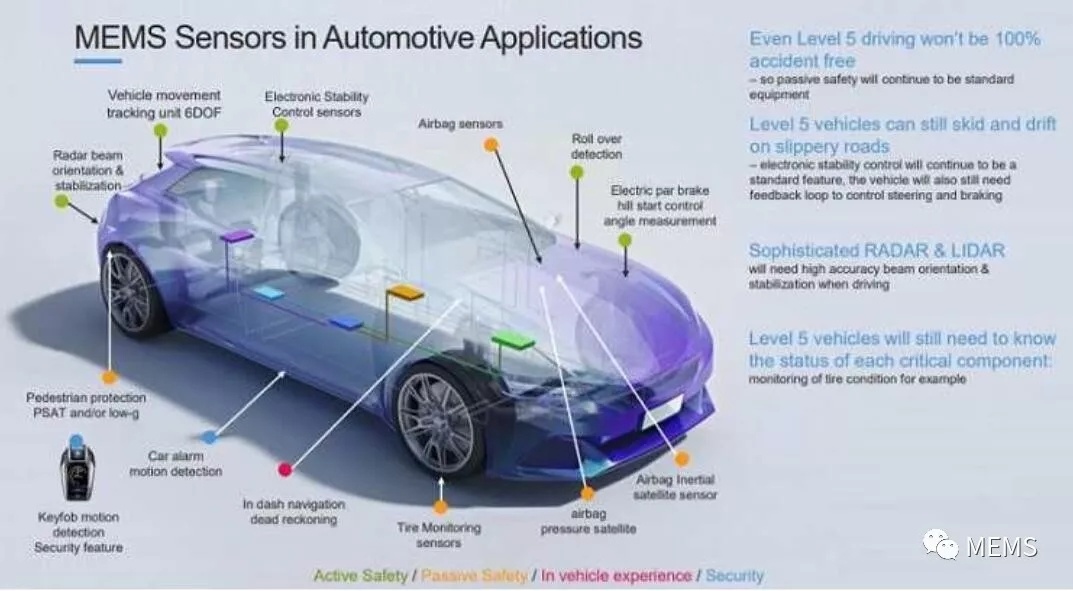 Although it has promoted the development of fully autonomous vehicles, the reality must also be considered. Claus Habfast, vice president of the Grenoble Municipal Council, said that for many years, vehicles in many European cities have been unable to achieve fully autonomous driving. Smart mobility is a key element of every smart city strategy. Driverless cars or connected self-driving cars must rely on seamless communication with other vehicles, as well as sensors and external infrastructure for data processing.
However, he said, "This trusted autonomous vehicle infrastructure is not yet in place and someone has to deploy and operate it and get a return on the investment from the owners and/or users of the autonomous vehicles. No one can yet point out who will be responsible for this problem in the city, nor how to generate and distribute revenue." He added: "When self-driving cars have to coexist with ordinary vehicles, eventually if they are not developed into luxury vehicles, they will only make traffic and traffic jams worse." Nevertheless, he believes that in Europe, with a broad mass transport customer base, city authorities are ready to play a leading role in developing autonomous vehicle infrastructure.
Apple Created/Killed the Fingerprint Sensor Market?
A few years ago, I used to drive a Tesla on the Lawrence Expressway Highway in California (this car was borrowed from NetSpeed Systems CEO Sundari Mitra, who recently sold the company to Intel). Like everyone else, I thought the car was like an "iPhone with four wheels.
Time is fast turning to the present and looking forward to the future. Michael Alexander, partner of market consulting firm Roland Berger, pointed out that consumers' expectation of realizing personal information entertainment and service with smart phone-like man-machine interface not only continuously promotes the demand for sensors, but also creates a platform integration for automobiles and consumer electronics. Coupled with the increasing demand for sensors such as identification, security, data integration and analytics, a common ecosystem connecting smart devices with an IoT platform will be able to be further adapted and deployed in multiple industries-such as automotive, financial services, and healthcare or medical applications. Manuel, principal MEMS and sensors analyst at IHS Markit, Tagliavini describes how Apple created the fingerprint sensor market in just four years from 2013 to 2017 and then killed it. He said that the iPhone X effect will eliminate more than 0.9 billion fingerprint sensors on the market by 2021. The company predicts that as the screen size increases, the fingerprint recognition sensor will gradually be integrated into the display. For example, Chinese OEM manufacturers such as vivo are actively adopting the fingerprint recognition sensor technology under the screen.
In the light sensor market, time-of-flight (ToF) sensors will dominate, with stmicroelectronics having most of the market share, while Apple uses ToF sensors to replace the near-infrared proximity sensors detected by the Ministry-Apple's use is an expensive custom component on iPhone X. The Apple iPhone X uses a combination of ToF and camera-TrueDepth near-infrared (NIR) flood sensing elements for face recognition. In addition to Apple, he said other mobile phone OEMs such as Samsung (Samsung), Huawei (Huawei), OPPO, vivo and Xiaomi (Xiaomi) are also reportedly working on a similar Face ID system.
According to Eric, a senior analyst at Yole, several electronics industry trends are driving the MEMS sensor market Mounier the far-reaching impact of smart cars, mobile phones, 5G and "industrial 4.0.
Mounier and predict the next development trend of MEMS sensors, such as implantable sensors for healthcare and diagnostics.
Another focus of this annual summit is that as sensor technology continues to strive to meet the cost and miniaturization needs driven by consumers and end users, it is now evolving rapidly, just like the broader semiconductor industry.
Although smart mobility continues to drive a sensor market that is expected to reach 100 billion US dollars in 2023, there is still more work to be done in various "consumer" sensors from healthcare to industrial markets. Obviously, sensor fusion or the use of multiple types of sensors will further become the norm, especially to create high-precision digital environments. To this end, the sensor itself will also be embedded with more intelligence.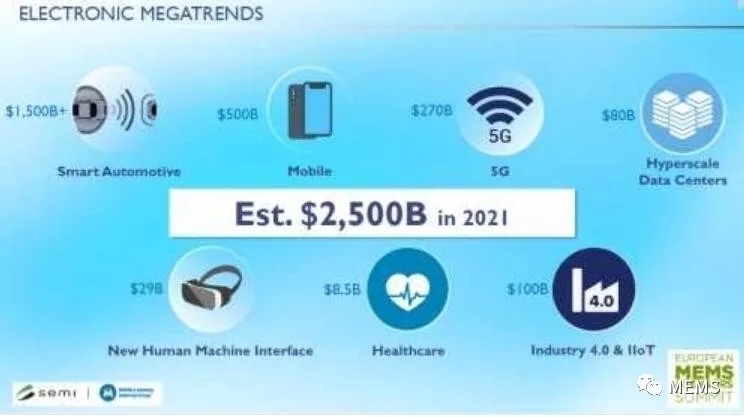 ---