Sweden's wholly-owned subsidiary Silex continues to maintain the first echelon of global MEMS wafer foundry
---
Recently, according to the latest statistics released by Yole Development, the world's authoritative semiconductor market research institution, in 2018, thanks to the gradual approach of the Internet of Things and the era of artificial intelligence, the global demand for MEMS sensors is strong, and MEMS designers and manufacturers continue to achieve growth.
In the 2018 global pure MEMS foundry revenue ranking, Silex Microsystems AB, a wholly-owned subsidiary of Neville Technology, ranked second (achieving revenue of about US $60 million), consistent with the 2016-2017 ranking, closely following TELEDYNE DALSA. In the 2018 global MEMS foundry revenue ranking, Silex ranked fourth, behind STMicroelectronics, TELEDYNE DALSA and SONY; in 2016-2017, it ranked fifth and third respectively. Silex continues to maintain the first echelon of MEMS wafer foundry in the world.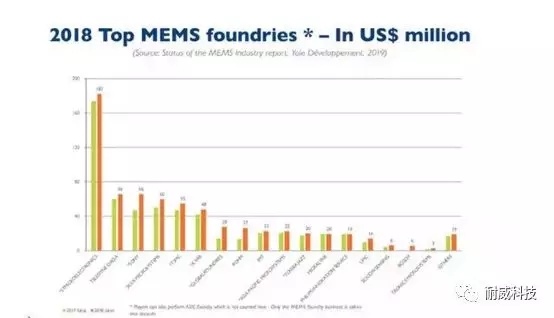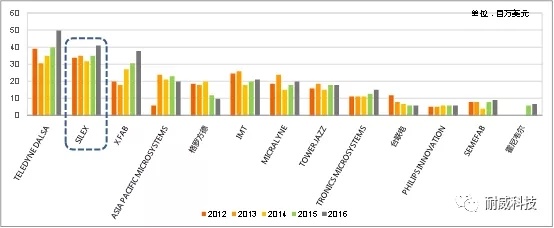 Note: The revenue counted here only includes revenue from the MEMS wafer foundry business, excluding other foundry businesses. For example, TSMC ranked fifth in the 2018 global MEMS foundry ranking, but it is the world's largest foundry.
According to the latest statistics released by Yole Development, the top companies continue to grow in the global MEMS component manufacturers' revenue ranking, with Broadcom and Robert Bosch continuing to lead the global MEMS industry, and the two companies together account for about 30% of the market share.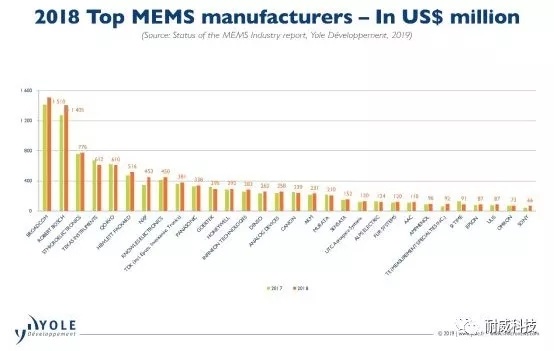 With the era of the Internet of Things and artificial intelligence approaching, the types of MEMS products continue to increase and the market scale continues to expand, and they are widely used in industry and communications, biology and medical care, aviation, automobiles, consumer electronics And other industries. Yole Development summarizes and lists nine major trends that affect our present and future:
(1) smart cars (electrification, driverless, smart connected cars, etc.);
(2) mobile phones (novel and improved social experience, augmented reality experience, etc.);
(3) 5G with increased bandwidth (driving RF filter demand);
(4) Hyperscale data centers to handle the Internet's growing massive data;
(5)AR/VR (augmented reality/virtual reality) for immersive experiences;
(6)AI/ML (artificial intelligence/machine learning) for smarter human-computer interactions;
(7) More intelligent voice processing for smart homes, self-driving cars, etc.;
(8) Smart healthcare (healthier living);
(9) Industrial 4.0/Smart factory (connected factory that uses various sensors to improve production efficiency).
These megatrends will create huge market opportunities for MEMS sensors.
According to Yole Development's forecast, the global MEMS market will achieve a compound growth rate of 17.5 per cent from 2018 to 2023 and will form a huge market of $31 billion by 2023. While all industries contribute to growth, the contribution of the consumer electronics industry will be particularly prominent.
---
mems, global, ranking, yole, market, industry, smart