Secretary Zhao Junming and his entourage from Baiyun District of Guangzhou City visited Naiwei Science and Technology for research.
---
On the morning of May 8, 2019, Zhao Junming, secretary of the Baiyun District Party Committee of Guangzhou City, led Pan Zhijun, member of the Standing Committee of the District Committee and Executive Deputy District Mayor, Jiang Li, director of the District Planning and Natural Resources Bureau, Yang Shaohua, director of the District Science, Industry and Commerce Bureau, and Yan Mingkun, director of the District Investment Promotion Bureau, and Gan Xianchao, deputy director of the Management Committee of the Civil Science Park, visited the Naiwei Technology Park, yang Yunchun, Chairman of Naiwei Technology, Zhang Yunpeng, Director and General Manager, Zhang Nan, Chairman of the Board of Supervisors, Zhang Abin, Deputy General Manager and Secretary of the Board of Directors, Zhang Zong, Director of Domestic Business Department, Jiang Yimin, Chairman of Subsidiary Optics Valley Information, and Liu Gaoyong, Vice President and General Manager of Guangzhou Branch, and other company and subsidiary leaders warmly received and organized talks. At the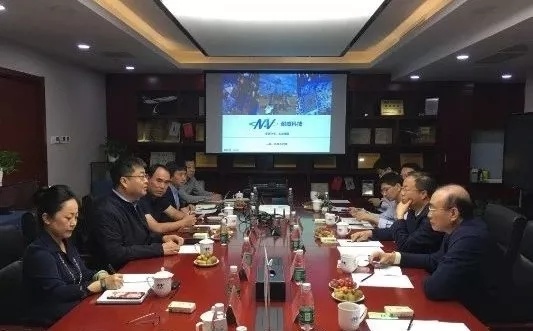 meeting, Zhang Abin, deputy general manager and secretary of the board of directors of Naiwei Technology, introduced the basic situation of the company and its subsidiaries from the aspects of strategic layout, core business, competitive advantage, market prospect, etc., and focused on the development status of MEMS business and spatial information business.
In 2016, Neville Technology acquired Sweden's Silex, the world's leading MEMS chip manufacturer, and introduced advanced MEMS development technology and production technology. In February 2019, Neville Technology won a strategic stake in the National Integrated Circuit Industry Fund. The "8-inch MEMS International OEM Line" jointly built by both parties in Yizhuang, Beijing represents the advanced level and large-scale production capacity in the MEMS field, and is stepping up efforts to promote the construction and production progress. Up to now, Neville's MEMS wafer foundry production capacity ranks among the top three in the world. After years of accumulation,
Optical Valley Information has always been one of the top 100 enterprises in China's geographic information industry. It is information-led, data-centered, and relies on the three core technical capabilities of spatial information technology, big data technology, and system integration technology. Serving all kinds of city-level, industry-level, and scenario-based users, it has developed rapidly since entering the Guangdong market in 2016, it has several local molecular companies and a spatial planning (Guangzhou) research institute, and is actively committed to becoming a leading enterprise in the field of intelligent governance and intelligent services.
Regarding the above introduction, Secretary Zhao Junming expressed his views on the development and competition pattern of related industries at home and abroad. At the same time, he raised questions about the development path of related businesses, industrial technology and production implementation details. Chairman Yang Yunchun This gave a detailed answer.
Secretary Zhao Junming praised the development path and mode of MEMS business of Neville Technology, and also affirmed the development of optical valley information space information business in Guangdong.
Secretary Zhao Junming stated that Baiyun District of Guangzhou is located in the apex area of the Guangdong-Hong Kong-Macao Greater Bay Area, with superior geographical location, beautiful ecological environment, convenient and accessible transportation, rich land resources, and active market entities. It is the most potential for development and space in Guangzhou in the future. One of the regions, Baiyun District is implementing the "1358" development strategy, focus on planning and building "eight industrial parks" such as Shenshan Equipment Manufacturing Industrial Park, Jinwai New Generation Information Technology and Artificial Intelligence Industrial Park, Baiyun New Town Headquarters Economic Agglomeration Zone, Great Health Biomedical Industry Base, Datian Railway Economic Industrial Park, Airport South Airport Industrial Zone, Junhe Industrial Park, and Helong Technology Innovation Valley, highlighting the development direction of advanced manufacturing and IAB strategic emerging industries, and building a new manufacturing system focusing on intelligent manufacturing, promote the industrialization of information and industrial informatization, promote the agglomeration of industries within the jurisdiction, and take the road of high-end innovation and development. Baiyun District welcomes Naiwei Technology to visit Baiyun District and expand its business, and the government will give strong support.
The two sides will further discuss the specific exchanges and cooperation.
---
technology, industry, information, mems, development, baiyun district