Neville Technology MEMS Business 2019 Year-end Conference Held in Beijing
---
Recently, the 2019 year-end meeting of Neville Technology MEMS Business was held in the temporary office of Selex Beijing Yizhuang. The participants included the company's chairman Yang Yunchun and management team, the board members and management team of its wholly-owned subsidiary Selex International, Sweden's Silex Microsystems AB and its holding subsidiary Selex Beijing. During the meeting, Dr. Edvard Kä lvesten, head of the MEMS business section of the company and CEO of Selex International and Silex of Sweden, and the team led Mr. Beuck, the new GM Wofgang of Selex Beijing, and Mr. Johan Borg, the new CFO of Selex International, to visit the 8-inch MEMS international foundry line under construction in Beijing.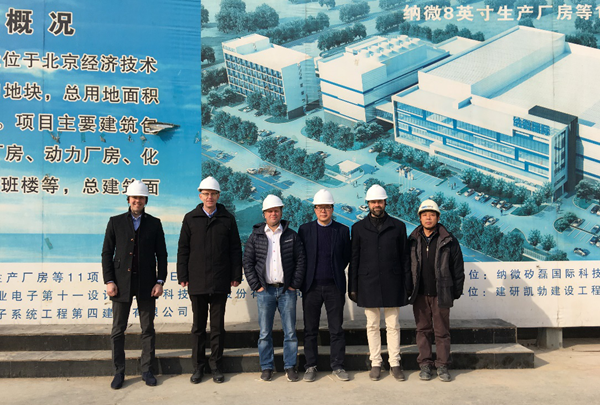 The topics of this 2019 year-end meeting mainly include:
, Selex International Co-ordinates MEMS business resources, with Swedish production lines and Beijing production lines and other subsidiaries located in Sweden, the United States and Hong Kong; In the future, the company will be responsible for the management and operation of MEMS business at the international level of Selex, it formulates specific business plans within the scope of authorization at the level of Neville Technology Group, including market development, capacity building, order allocation, process development, production arrangements, material procurement, human resources, etc.
2. The Swedish Silex management team reported to the board of directors the operating results from January to November 2019, predicted the whole year and looked forward to the future development trend. At the same time, it reported the latest situation of Swedish production lines in market development, capacity improvement, process improvement, etc., and shared the development trend of MEMS industry and major operating information of key companies in the industry with the participants.
3, Selex Beijing management team reported on the latest situation of Beijing 8-inch MEMS international foundry line in engineering construction, production conditions, equipment procurement, technology transfer, personnel exchange, staff recruitment, production and capacity planning. Yang Yunchun, chairman of
, affirmed the achievements made by the company's MEMS business segment in recent years, especially the construction of Beijing Fab scale production capacity and the achievements made in opening up the global market, especially in Asia, since last year. The meeting agreed that with the advent of the era of Internet of Everything and artificial intelligence, the manufacturing demand for global perception-based chips and devices will continue to grow. The company should give full play to its existing advantages in technology, talent, market, brand, technology, and production capacity. Continue to complete the final stage of upgrading and expansion of the Swedish production line, and step up construction at the same time, so that the Beijing production line can be trial production and officially put into production as soon as soon as possible, to meet market demand and expand the company's competitive advantage and market share in the global MEMS foundry field.

---
year-end, mems, beijing, lex, company, sweden, international, construction, team, management