Naiwei Technology Won "2019 Social Responsibility Award" of the 17th Financial Wind and Cloud List Growth Enterprise Market"
---
Recently, the results of the "17th China Financial and Economic Billboard Listed Companies Selection" sponsored by Hexun Network were announced, and Neville Technology (300456) won the "2019 Social Responsibility Award" of GEM ".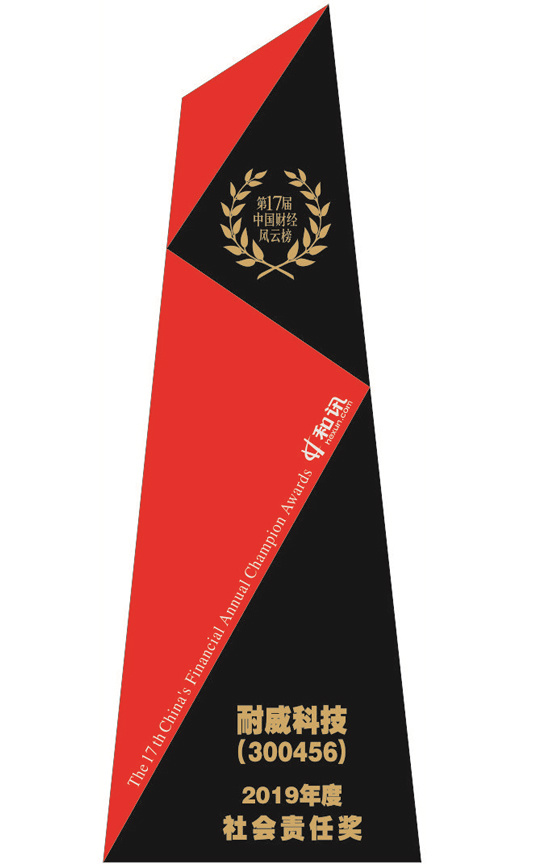 According to the introduction of Hexun, after screening through various conditions, nearly 1300 listed companies participated in the selection. This year's 2019 listed company selection awards include "Main Board Competitive Enterprise", "Main Board Outstanding Leader", "Main Board Five-Star Secretary", "Main Board Social Responsibility Award", "Main Board Brand Star", and "ChiNext Ten awards for competitive enterprises," GEM Outstanding Leader "," GEM Five-Star Secretary "," GEM Social Responsibility Award ", and" GEM Brand Star.
Up to this year, the China Financial and Economic Billboard has been held for 17 consecutive sessions. For a long time, the Financial and Economic Billboard has upheld professional and unique insights to help the steady development of China's financial market. The previous awards have set up a number of awards in various financial fields, including banks, funds, insurance, futures, foreign exchange, securities companies and listed companies, and have become one of the most authoritative and influential annual awards in the financial industry.
In the results of this selection, a total of 50 listed companies won the award. The following is the list of winners:
Main Board "Competitive Enterprise of 2019":
United States Holdings, Sany Heavy Industry, Gree Electric Appliance, Opal Lighting, Shuijingfang
Main Board "Outstanding Leader of 2019":
HKUST Xunfei Liu Qingfeng, Sifang Technology Huang Jie, Kangtai Biology Du Weimin, Tianma Technology Chen Qingtang, Sanxiang New Material Xia Peng
Main Board "2019 Five-Star Dong Mi":
Fosun Medicine Dong Xiaoxian, BOE A Liu Hongfeng, East China Medicine Chen Bo, Yanghe Stock Company Academic Year, First Share Shao Li
Main Board Award "2019 Social Responsibility Award":
Group, Ping An of China, Shanxi Fenjiu, Biology Stock, Gibbit
Main Board "Brand Star of 2019":
Guizhou Maotai, Sankeshu, BYD, Kangjia Group, Yutong Bus
Growth Enterprise "Competitive Enterprise of 2019":
Opcom, Lepu Medical, Jianfan Biology, Kairun Stock, I Wu Biology
GEM "Outstanding Leader of 2019":
Venture Huikang Gehang, Yaoshi Technology Yang Minmin, Huayu Software Shao Xue, Yilian Network Chen Zhisong, Digital Certification Zhan Banghua
GEM "Five Star Dong Mi of 2019":
Sanhuan Group Xu Ruiying, Zhongguang Lightning Protection Zhou Hui, Dirui Medical Li Hongyu, HKUST Intelligent Mu Junbai, Tianfu Communication Chen Kairong
Growth Enterprise Market "2019 Social Responsibility Award":
Naiwei Technology, Yilian Network, Meikang Biology, Zhongfu Information, Tomson Beijian
Growth Enterprise Market "2019 Brand Star":
Hongxin Electronics, Aier Ophthalmology, Wanji Technology, Yaoshi Technology, Luyitong
---
Naiwei Technology takes sensing technology as its core and closely revolves around the two industrial chains of Internet of Things and special electronics. On the one hand, it vigorously develops the three core businesses of MEMS, navigation and avionics. On the other hand, it actively distributes potential businesses such as unmanned systems and third generation semiconductor materials and devices, committed to becoming a first-class private technology enterprise group with high competition threshold. The company's main products and businesses include MEMS chip process development and wafer manufacturing, navigation systems and devices, avionics systems, etc., and application fields include communications, biomedicine, industrial science, consumer electronics, aerospace, and intelligent transportation.
Adhering to the principle of "learning from the advanced and landing at home", Neville Technology has gradually realized the landing of MEMS advanced manufacturing platform at home and serving the industry by acquiring and absorbing Sweden's Silex, a leading international MEMS contract manufacturer, with its leading process technology, outstanding industry position and high-quality customer resources, combined with China's huge application market.
The 8-inch MEMS international foundry line jointly invested by Neville Technology and the National Integrated Circuit Industry Fund in Yizhuang, Beijing represents the advanced level and large-scale production capacity in the MEMS field. After completion and production, it will provide mature technical support and capacity guarantee for the research and development and mass production of global MEMS product customers. The construction base has recently moved into the first production equipment.
The main business industries of Neville Technology are high-tech industries and strategic emerging industries encouraged by the state, and attach great importance to the cultivation of high-end talents. The company's R & D team, with Dr. Yang Yunchun as the core of the "Thousand Talents Program", has long been engaged in the study, research and practice in the fields of navigation and positioning and avionics, with profound theoretical foundation and rich experience in R & D and application. By the end of the first half of 2019, the company has 45 doctors and 150 masters, accounting for 30.47 of the total number of the company. The company has 352 R & D personnel, accounting for 55%.
Relying on the Internet of Things and special electronic two-wheel drive, the company's MEMS foundry leading position is prominent, GaN, navigation, avionics business concentrated accumulation, driven by the strong market demand for MEMS, the company has achieved good development results. This award is a recognition of the comprehensive strength of Neville Technology and an encouragement to the company's efforts in assuming social responsibility. In the future, Neville Technology will live up to expectations, make persistent efforts, achieve more results, and make more contributions to society.
---
Year, Technology, 2019, GEM, Main Board, mems, Company, Electronics, Selection