Microelectromechanical systems (MEMS) and gallium nitride (GaN) are both written into the "14th Five-Year Plan"
---
On March 15, 2021, the 14th Five-Year Plan for the People's Republic of China's National Economic and Social Development and the Outline of Long-Term Goals for 2035 were officially announced, proposing to strengthen original and leading scientific and technological research, and to formulate and implement strategic scientific plans and scientific projects in the basic core areas related to national security and overall development. It is required to target cutting-edge fields such as artificial intelligence, quantum information, integrated circuits, life and health, brain science, biological breeding, aerospace technology, deep-ground and deep-sea, and implement a number of forward-looking and strategic major national scientific and technological projects, with a view to finally realizing the independence of related industries.
In the "14th Five-Year Plan", integrated circuits are listed as one of the frontiers of science and technology, including research and development of key materials such as integrated circuit design tools, key equipment and high-purity targets, breakthroughs in advanced integrated circuit technologies and characteristic processes such as insulated bipolar transistors (IGBT) and micro-electromechanical systems (MEMS), upgrading of advanced storage technologies, and development of wide-bandgap semiconductors such as silicon carbide and gallium nitride.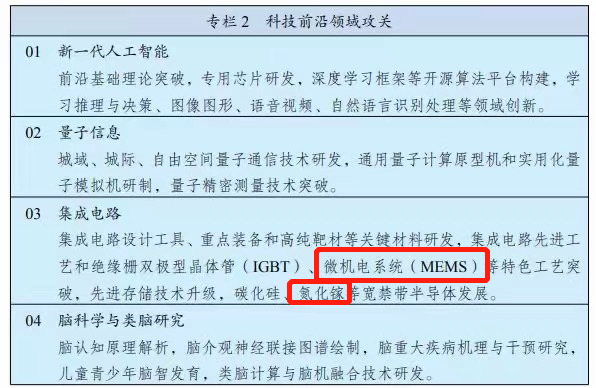 Sai Microelectronics's current core businesses are MEMS and GaN, and the company has made forward-looking layouts for these two businesses in 2015 and 2018, respectively. Among them, the process development and wafer manufacturing of MEMS chips are the current core advantage businesses of Saiwei Electronics, accounting for 88.85 percent of the operating income in 2020, and ranking first in the world in 2019, surpassing TELEDYNE DALSA, Sony (SONY), TSMC (TSMC), X-FAB and other manufacturers. GaN epitaxial material growth and device design are the current and future potential businesses of Saiwei Electronics, we have mastered the industry-leading 8-inch silicon-based GaN epitaxy, 6-inch silicon carbide-based GaN epitaxial growth technology, GaN power and microwave device design capabilities, some of which have been sequenced and marketed.

Focusing on MEMS and GaN, which are at different stages of development and focus on the development of semiconductor strategic businesses, the development goal of Saiwei Electronics is to become a well-known semiconductor technology enterprise group based on local and international development.
---
nitriding, gan,mems, development, business, microelectronics, field, process, core, epitaxy