Zhongke Hao Xin completed a Pre-A round of financing of tens of millions of yuan, with Sequoia Capital leading the investment.
---
Recently, Beijing Zhongke Hao Xin Technology Co., Ltd. (hereinafter referred to as "Zhongke Hao Xin"), a subsidiary of Saiwei Electronics, completed a Pre-A round of financing of tens of millions of yuan. This round of financing was led by Sequoia Capital, and the original shareholders Jiuhe Venture Capital and Suqian Ruida made additional investments. Li Renwei, founder and CEO of Zhongke Hao Core, said: "After the completion of this round of financing, the company will further expand its technical team and corresponding equipment, thus accelerating the industrialization process of related DSP chips."
Digital Signal Processor (DSP), as a basic device in a wide range of fields such as communications, computers, industrial control, automobiles, consumer electronics, etc., is a subdivision field with a large gap between domestic and foreign in the integrated circuit industry, especially in communications, Industrial control, automobiles, consumer electronics and other important markets related to the national economy and people's livelihood, the process of domestic substitution needs to be accelerated. China urgently needs the birth of an excellent DSP design and application enterprise to break the foreign monopoly in this field and ensure the independent and controllable development of industrial and consumer industries. As a scientific and technological achievement transformation enterprise of the Institute of Automation of the Chinese Academy of Sciences, Zhongke Hao Xin is a professional supplier of domestic digital signal processors. Aiming at the national strategy of independent safety of integrated circuits, relying on the strong strength and profound background of the scientific research national team, Zhongke Hao Xin pioneered the design and development of digital signal processors DSP using RISC-V instruction sets, and defined independent DSP instruction sets, thus solving two major problems that have plagued the domestic DSP application market for many years: applied ecology and intellectual property. Zhongke Haoxin has successfully developed two series of products, Haawking-HX201 series and Haawking-HX2000 series, and is building a complete ecosystem of processor products. The chips can be widely used in graphics and image processing, digital signal processing, industrial control and motor drive, digital power supply, New energy and other fields.
Zhongke Hao Core Product Chart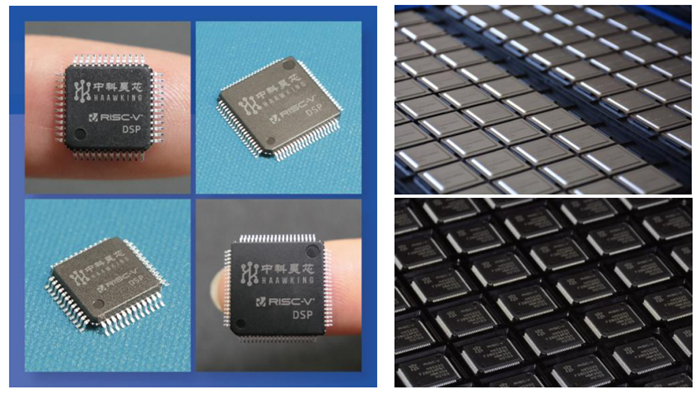 ---
10,000 yuan, Zhongke, dsp, field, digital signal, processor, industry, application, financing, control.