Sign up and land! Saiwei Electronics and Qingzhou City Cooperate to Build 6-8 Inch GaN Chip Manufacturing Line
---
On April 1, 2021, the signing ceremony of "Qingzhou Gathering International 6-8 inch Gallium Nitride Silicon Power Device Semiconductor Manufacturing Project" was successfully held in SAIC Microelectronics FAB Factory. Weifang Municipal Party Committee Deputy Secretary and Mayor Liu Yun, Weifang Municipal Government Deputy Secretary-General and Research Office Director Zhang Zhihai, Qingzhou Municipal Party Committee Deputy Secretary and Mayor Song Weiwei, Weifang Investment Cooperation Promotion Bureau Director Han Wenhong, Deputy Director Chen Zhijun, Weifang Sports Bureau Party Group Member, Deputy Director, Chairman of the Municipal Sports Federation Wang Yanni, Weifang in Beijing Shuangzhao Shuangyin Liaison Office Director Luo Xiaoqing, Qingzhou Municipal Government Deputy Mayor as Optics, liu Wenge, Executive Deputy Secretary of the Party Working Committee and Director of the Management Committee of Qingzhou Economic Development Zone, Liu Xin, Director of Qingzhou Investment Cooperation Promotion Center; Dr. Yang Yunchun, Chairman and General Manager of Saiwei Electronics (overseas video connection), Dr. Shen Yong, Chief Operating Officer of Saiwei Electronics, Mr. Zhang Abin, Director, Deputy General Manager and Secretary of the Board of Directors of Saiwei Electronics, Mr. Liu Xipeng International, Mr. Yuan Li, mr. Cai Meng, Deputy General Manager and Chief Financial Officer of Saiwei Electronics, Ms. Zhou Jiayu, Deputy General Manager of Saiwei Electronics, Mr. Liu Bo, and relevant staff and employee representatives attended the ceremony. At the beginning of the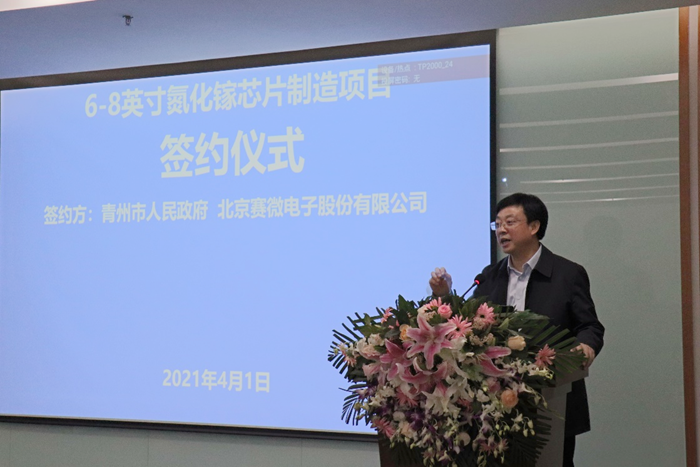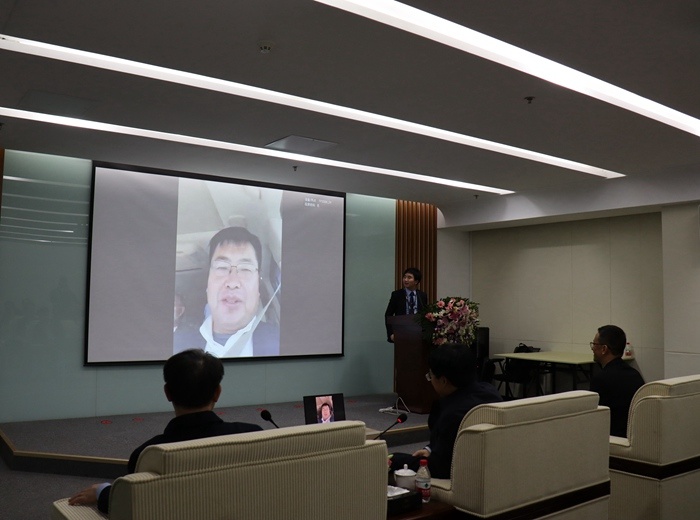 ceremony, Liu Yun, deputy secretary of Weifang Municipal Committee and mayor, and Yang Yunchun, chairman and general manager of Saiwei Electronics, had a video connection and delivered a speech. Liu Yun mentioned in his speech that Weifang has a good industrial foundation, a complete range of industries, and a large number of advanced manufacturing enterprises such as Weichai and Goer. At present, Weifang is seizing important opportunities for the state and province to support the development of the semiconductor industry, and is committed to building a high-end manufacturing highland in China. Weifang will implement the service enterprise commissioner system and fully support the Qingzhou project of Saiwei Electronics to become bigger and stronger.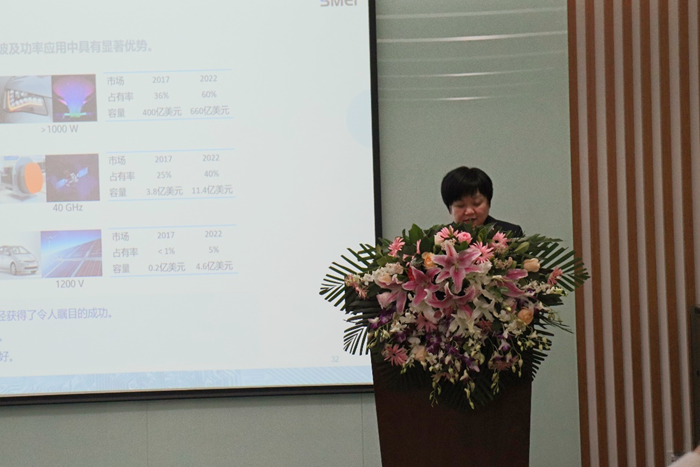 Song Weiwei, Deputy Secretary of Qingzhou Municipal Party Committee and Mayor, delivered a speech, in which he mentioned that the leaders of Weifang City led relevant counties and cities to Beijing to connect enterprises and negotiate projects, which set off a new round of project recruitment and accelerated development. Qingzhou is one of the "ancient Kyushu" with a long history and profound cultural heritage. It is known as "Haidai Pearl" and "Xinmei Oriental First State. Qingzhou now has jurisdiction over 4 streets, 8 towns and 1 provincial-level economic development zone, with a total area of 1569 square kilometers and a 957000 population. It is a national civilized city, a national historical and cultural city, a national sanitary city, and a national tourism demonstration zone. Qingzhou insists on highlighting the main business of "advanced manufacturing", takes the creation of "Made in Qingzhou" brand as the focus of building a modern industrial system, vigorously supports the development of high-end manufacturing, plans to build characteristic parks, and introduces policies to guide and support enterprise technological innovation. In the next step, Qingzhou will thoroughly implement the Weifang key work breakthrough and service enterprise development mobilization meeting and the spirit of Weifang "two sessions", implement the enterprise (project) service specialist, continue to pay attention to the project progress, optimize the project construction environment, spare no effort to provide high-quality service, tracking service and accurate service, and strive to create good conditions for the project promotion.
The director, deputy general manager and secretary of the board of directors of Saiwei Electronics introduced the basic situation, development history, GaN business layout and the specific situation of this contracted project to the guests. Since its inception, Sai Microelectronics has successfully extended its business to the upstream of the industry chain through endogenous development and epitaxial mergers and acquisitions, and MEMS process development and wafer manufacturing, GaN material growth and device design have gradually become the company's main business. Based on the judgment of the development prospects of MEMS and GaN industry, and due to the complex international political and economic environment, the company has made major adjustments to its long-term development strategy, successively stripping avionics, navigation and other non-semiconductor businesses, concentrating resources to form a semiconductor-centered business pattern. MEMS and GaN have become strategic businesses at different stages of development and focusing on development. At the same time, the company has carried out a series of industrial investment layout around the main business, directly or through the industrial fund to the industrial chain related enterprises to participate in equity investment. The company's development goal is to become a well-known semiconductor technology enterprise group based on local and international development.
Sai Microelectronics has invested in the establishment of a multi-energy core in July 2018, mainly engaged in the design and development of power and microwave devices, especially gallium nitride (GaN) power and microwave devices; has invested in the establishment of a concentrated energy crystal source in June 2018, mainly engaged in the design, development and production of semiconductor materials, especially gallium nitride (GaN) epitaxial materials; As a first-class platform company for the company's GaN business, gathering energy core brings together the industry's leading team, with the third generation of semiconductor material growth, process manufacturing, device design and other industrial chain technical capabilities and reserves, and up to now in 6-8 inch silicon-based GaN epitaxial wafers, GaN power devices and applications have formed a series of products and achieved mass sales.
In view of the strong market demand for Sai Microelectronics GaN (gallium nitride) business and the excellent performance of self-developed products, it is severely constrained by external uncontrollable production capacity. This time, Saiwei Electronics and Qingzhou City have jointly invested in the construction of a 6-8 inch GaN chip manufacturing production line, which will carry out adaptive supplementary construction on the basis of the existing land factory building. The complete set of hotline equipment has been locked and the target is to be completed and ready for production in 2021, which is conducive to Saiwei Electronics to further improve the IDM layout of the whole industry chain of GaN business, further strengthen the production capacity guarantee on the basis of existing industry chain cooperation, and grasp the key opportunities window, gradually form an independent, controllable, fully localized, and sustainable GaN material, design, and manufacturing capabilities to promote the long-term development of the third-generation semiconductor business. The signing ceremony of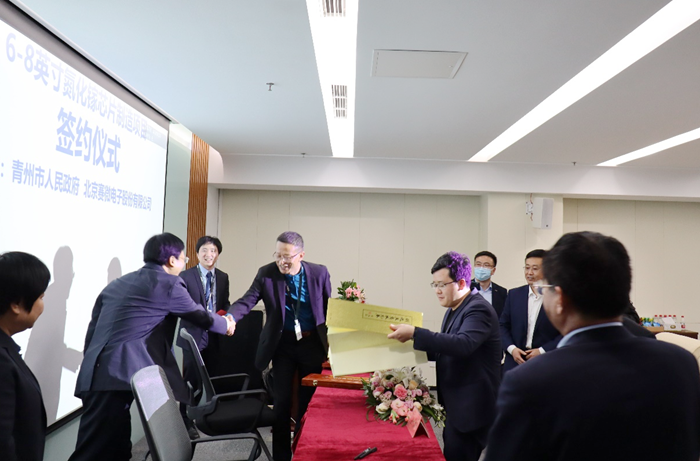 was successfully concluded. Liu Yun, Deputy Secretary of Weifang Municipal Committee and Mayor, Song Weiwei, Deputy Secretary of Qingzhou Municipal Committee and Mayor, Shen Yong, Chief Operating Officer of Saiwei Electronics, and Zhang Abin, Director, Vice President and Secretary of the Board, exchanged gifts and expressed good wishes for the construction and commissioning of Qingzhou's 6-8 inch GaN chip manufacturing line.
On the same day, Zhang Abin, director, deputy general manager and secretary of the board of directors of Saiwei Electronics, Yan An, deputy general manager of Saiwei Electronics Holding Subsidiary Company, accompanied Liu Yun, deputy secretary of Weifang Municipal Committee and mayor, Song Weiwei, deputy secretary of Qingzhou Municipal Committee and mayor, and his party visited Saiwei Electronics "8-inch MEMS International OEM Line" and introduced the operation of the production line.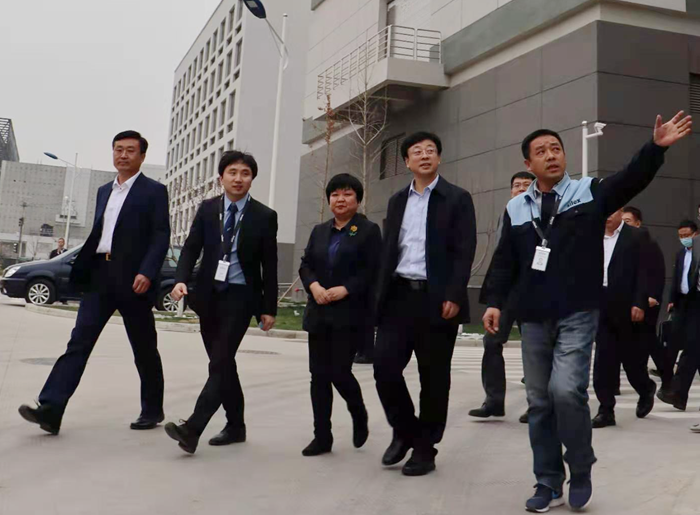 ---
manufacturing, microelectronics, gan, qingzhou, business, development, project, weifang, semiconductor, deputy secretary of the municipal party committee