Sweden's Silex, a wholly-owned subsidiary of Saiwei Electronics, acquires Germany's Elmos automotive chip production line.
---
Germany Elmos CEO Dr. Arne Schneider and Sweden's Silex CEO Dr. Edvard Kä lvesten
On December 14, 2021, Sweden's Silex Microsystems AB, a wholly-owned subsidiary of Saiwei Electronics, and Germany's Elmos Semiconductor SE (Frankfurt Stock Exchange: ELG) signed the Equity Purchase Agreement. Sweden's Silex plans to acquire assets related to Elmos's automotive chip manufacturing line for 84.5 million euros (including 7 million euros work in progress). Pursuant to the Equity Acquisition Agreement, Elmos has established a new special purpose vehicle (SPV) in Germany to take over the assets of the underlying production line, which will become a wholly owned subsidiary of Silex in Sweden upon completion of the delivery. The SPV was established on November 25, 2021. With the transaction, Elmos will transfer all assets and corresponding employees, existing service contracts, supply agreements, employment contracts and other rights and relationships related to the production line to SPV.

Elmos Semiconductor FAB Interior Scene Real Photograph
Elmos was established in 1984 and went public in 1
999 . Currently, it has 1 ,141 employees , headquartered in Germany, and is a well-known automotive semiconductor company. Germany Elmos develops, manufactures and sells various CMOS(Complementary Metal Oxide Semiconductor, complementary metal oxide semiconductor) chips and sensor chips. The company's product range covers automotive high-speed network communication interface chips, power regulator chips (which can provide efficient conversion of different voltages), optical infrared sensor chips (which can realize contactless gesture sensing with large screens or mobile phones), micro-control chips for motor drive systems (which can realize precise control of automotive motors and real-time detection of operating physical parameters), MEMS( Micro-Electro-Mechanical System, MEMS) chip, etc. Elmos also produces the world's leading application-specific integrated circuits (ASICs) and semiconductor chips in mixed-signal technology mainly used in the automotive industry. Elmos's automotive chip manufacturing line was completed in 2009 and has been in operation for 12 years and is in good condition. Dr. Arne Schneider, CEO of
Germany
Elmos Semiconductor SE, believes that Elmos business is still in the growth stage, but from a long-term perspective, the demand for 350nm automotive electronic chips from downstream customers may decline and it will be replaced by newer products. In his view, the acquisition of Silex Microsystems AB in Sweden will provide a perfect sustainable solution for employees, customers and the development of the Dortmund region of the automotive chip manufacturing production line.
Dr. Edvard Kä lvesten, CEO,
director and founder of Sweden Silex Microsystems AB, believes that , Germany Elmos automotive chip manufacturing line has high efficiency, high quality wafer processing technology and experienced team, which will open up new possibilities for Sweden Silex to expand global customers and increase production capacity. The acquisition of Germany's Elmos automotive chip manufacturing line will be an important milestone in Sweden's Silex development strategy .
Elmos Semiconductor FAB Exterior Scene Real Photograph

Elmos
Mainly develops, produces and sells
CMOS chips and sensor chips, which are mainly used in automotive electronics. It has been deeply cultivated in the industry for nearly 30 years. has rich experience and technology accumulation, and its products are widely used in communication, measurement, adjustment and control in automobiles, it is suitable for the safety system, comfort system, power system and network function of the car. Elmos has continued to innovate for nearly 3 years and has been committed to bringing new features to life, and making global mobility safer, more comfortable and more energy efficient. Through this acquisition of the relevant assets of the automotive chip manufacturing line under
Elmos, Sai Microelectronics will further expand the business scope of
, which is the core main business of , sensor and chip process manufacturing, to the automotive electronics field, and at the same time rapidly increase the overseas production capacity of , which is compatible with MEMS and C MOS chip integrated process manufacturing, it is beneficial for company to actively grasp the development opportunities of the global semiconductor characteristic process manufacturing industry, especially the rapid growth of global automotive chip and MEMS chip manufacturing demand, thus promotes the further development of the company's business, improves the company's comprehensive competitive strength in the global scope, and finally implements the long-term development strategy after the company's transformation, that is, focusing on the main business, strive to become a well-known semiconductor technology enterprise group based on local and international development.
Elmos Semiconductor FAB location Germany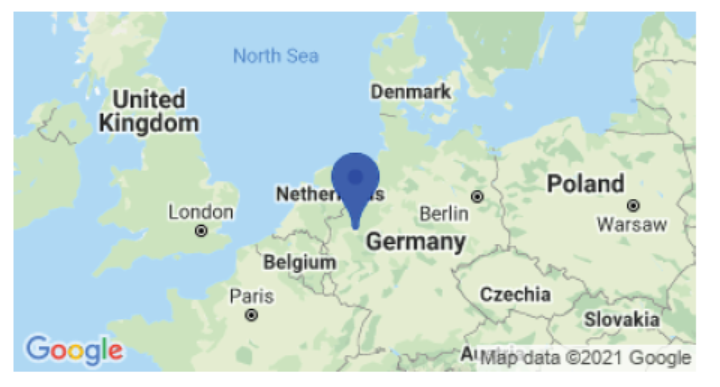 North Rhine Westphalia Dortmund
---