Saiwei Electronics-BAW Filter Passed Verification and Started Trial Production!
---
2 022 Year 6# April 1 2 , A BAW ( Bulk Acoustic Wave manufactured by 8 inch MEMS international OEM line (Beijing FAB 3 ) jointly invested by Beijing Saix Microelectronics Co., Ltd. and the National Integrated Circuit Industry Investment Fund (hereinafter referred to as "Saix Beijing"), bulk acoustic wave filter with resonant cavity, including BAWSMR- solid mount resonator and FBAR- thin film bulk acoustic wave resonator) has passed customer verification.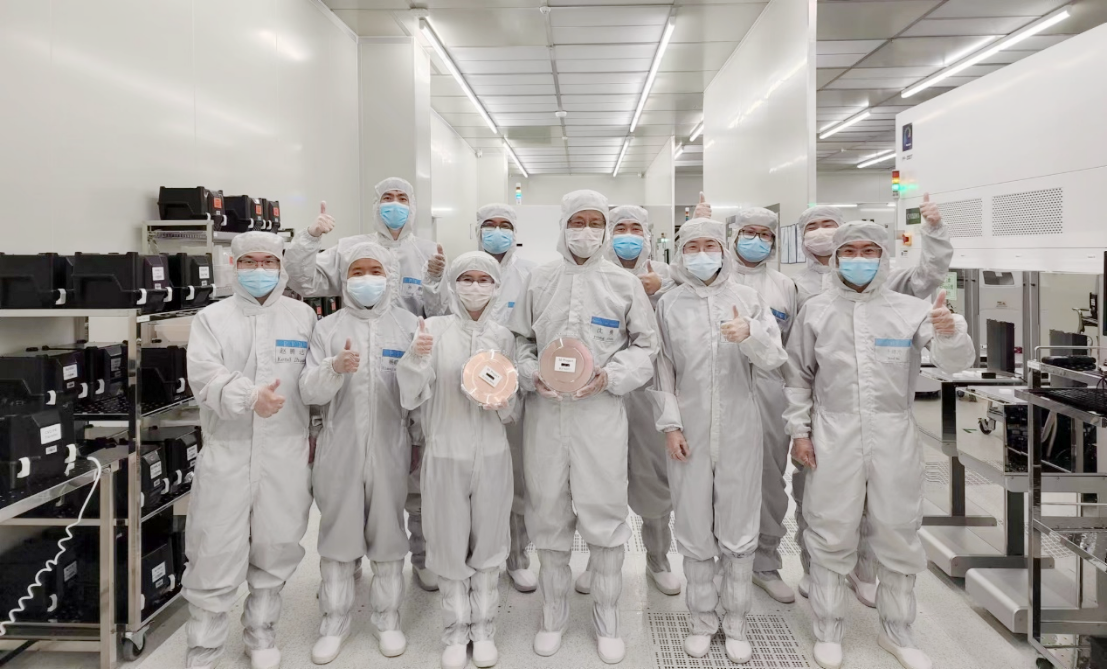 FAB
3 A certain BAW filter 8-inch wafer process research and development team
has carried out performance tests such as frequency band suppression, band insertion loss, voltage standing wave ratio and reliability verification such as high acceleration temperature and humidity stress, high and low temperature storage life, mechanical and drop impact on this batch of
BAW filters, the performance and yield of the FAB3 filter produced in Beijing meet or exceed the design index requirements, which is equivalent to the same category product index of the international RF giant manufacturers. The customer has signed a trial production order at the same time, and Beijing FAB3 started the small batch trial production of the first batch of BAW filter 8 inch wafers.
The customer is a local RF front-end
MEMS filter chip design company, the core team has rich experience, with core intellectual property rights, is committed to the realization of BAW filter domestic replacement and wide application.
With the further development of information technology, high-speed information processing, high-frequency signal transmission has become a new feature of the development of digital circuits, along with the increasing amount of information and information transmission efficiency needs, terminal equipment is also moving towards high-frequency rapid transition. In the high frequency signal state, due to the skin effect of the material, dielectric polarization and other factors, the electrical isolation of the insulating material is greatly reduced, and the signal transmission path between the radio frequency and microwave units in the high frequency communication terminal and the interleaving of multiple transmission lines cause serious electromagnetic interference, noise and other problems. RF microwave devices manufactured by traditional process are difficult to be effectively applied in high-frequency communication
(mainly because it is difficult to solve the contradiction between high isolation requirement and small size and high integration), while MEMS manufacturing process can solve the shortcomings of traditional process and effectively control various transmission losses of electromagnetic wave signals through special fine structure. It has the characteristics of low loss, low noise and good heat dissipation ability in high-frequency state, the high-frequency communication devices manufactured by the new MEMS process can be widely used in various fields such as satellite reception, base stations, mobile phones, navigation, transportation, and storage.

Wafer Level Package FABR Filter Internal Structure Diagram
RF Front End includes filter,
PA , switch, LNA and other market segments. Yole Development is expected to reach 250 .4 billion USD in 2025 , at present, most of the front-end market is monopolized by international radio frequency giants such as Skyworks , Qorvo , Broadcom(Avago) , Murata MURATA and RF360 (owned by Qualcomm ), and the self-sufficiency rate of domestic devices is relatively low.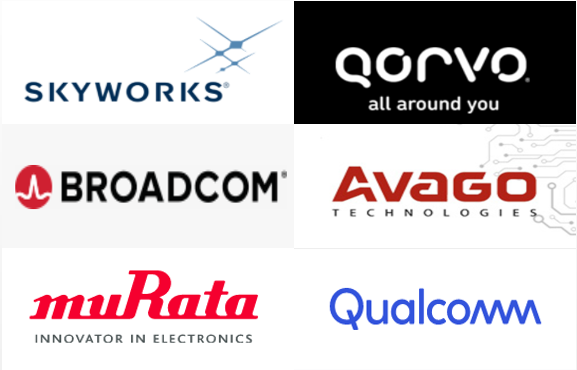 International RF giant manufacturers
Among them, the filter is the most important component in the RF system, the performance of which directly affects the quality of signal communication in each frequency band, and is the most valuable segment of the RF front-end chip. With the development of communication technology, the number of communication frequency bands has increased from single digits in the
2G era to about 100 70-100 in the 5G era. Mobile phone filters mostly use acoustic wave filtering technology, and the filters are divided into SAW ( Surface Acoustic surface acoustic wave, surface acoustic wave filter) and BAW ( Bulk Acoustic wave, bulk acoustic wave filter with resonant cavity, including BAWSMR and FBAR ) according to the type of acoustic wave transmission, among them, SAW process is more similar to traditional integrated circuits, while BAW process requires MEMS acoustic structure and long-term accumulation of piezoelectric materials. The required process manufacturing steps are several times that of SAW , with higher technical difficulty and higher unit price.
2020
, the global filter market size is about $66.25 .6 billion, of which the market size of SAW filter is about $38.57 billion, and the market size of FBAR (thin film bulk acoustic resonator) filter is about $12.08 .4 billion, BAWSMR (solid mounted resonator) filter market size is about 6.97 .8 billion USD. In the global market, the filter industry has a high market concentration. Japanese and American manufacturers have formed monopolies and barriers by virtue of advanced technologies. The market share of BAW filter leading company Broadcom(Avago) is as high as 90% . In the Chinese market, the overall process of filter localization is still in the preliminary stage, the overall technical level of the domestic industry compared with foreign leading manufacturers still have a large gap, the development of the domestic filter industry is still unable to meet domestic demand, a large number of still rely on imports.
in the era of high-frequency communication, due to the consideration of supply chain security, China's downstream end customers on the filter of domestic substitution demand is becoming more and more urgent, more and more local manufacturers in efforts to accumulate technology and technology, trying to break the current monopoly by Japan and the United States manufacturers market pattern.
Microelectronics takes semiconductor business as its core and faces the era of Internet of Things and artificial intelligence under the background of high-frequency communication. On the one hand, it focuses on developing
MEMS process development and wafer manufacturing business. On the other hand, it actively lays out GaN materials and devices business and is committed to becoming a well-known semiconductor technology enterprise group based on local and international development.
Selex Beijing is a
8 inch MEMS International OEM Line Project Company jointly invested by Beijing Selex International Technology Co., Ltd., a wholly-owned subsidiary of the company, and the National Integrated Circuit Industry Investment Fund Co., Ltd. It is mainly engaged in MEMS ( Micro-Electro-Mechanical Systems the abbreviation of , namely microelectronic mechanical system, referred to as micro-electromechanical systems) production foundry business.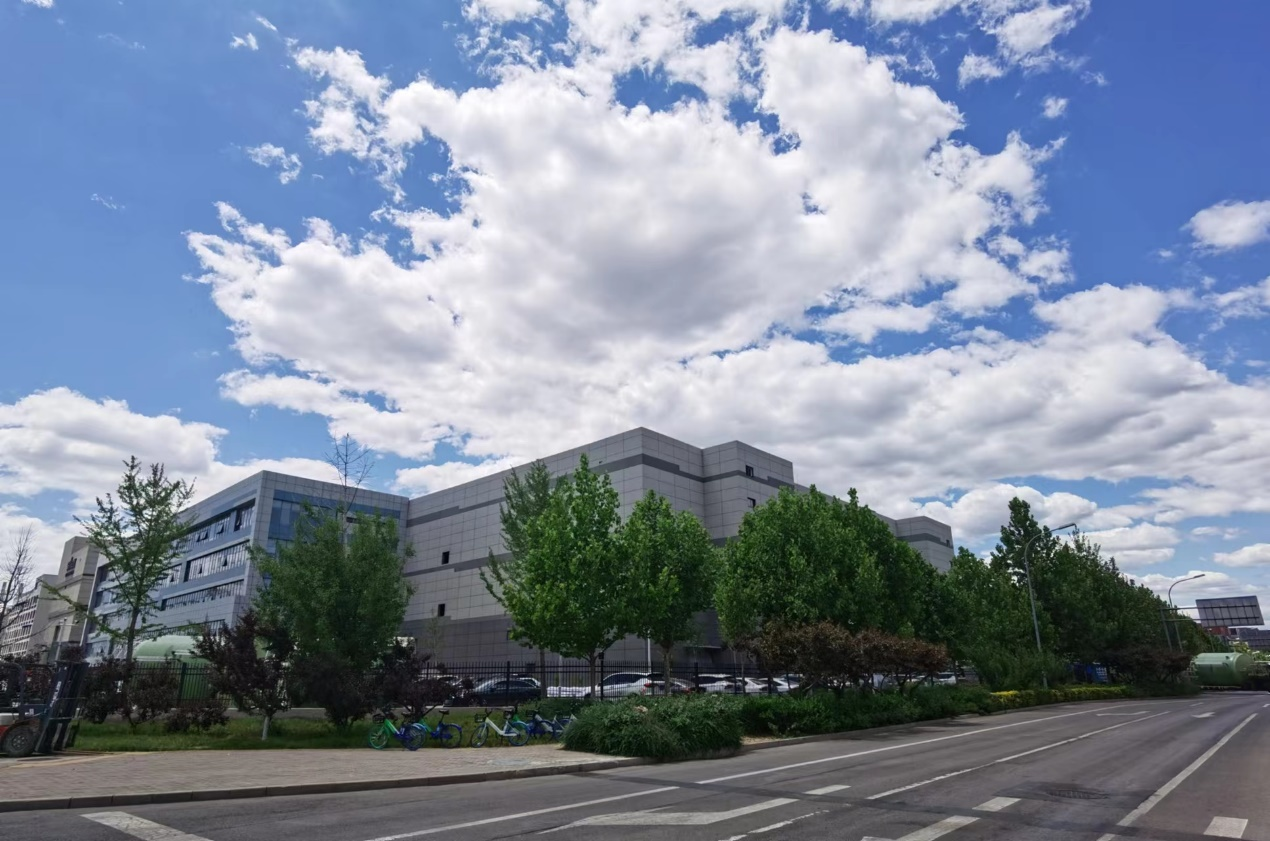 Beijing 8-inch MEMS International OEM Line
Swedish Strategic Product Inspection Bureau (
the Swedish Inspectorate of Strategic Products , referred to as ISP ) rejected the company's wholly-owned subsidiary Silex Microsystems AB (referred to as "Sweden Silex ") in , 2021 , 174, October 17, May, 2021 , and submitted its technical services to Beijing FAB3 to Sweden ISP on November 18, 180# supported Permit Applications, the Technical Service Agreement and License Agreement signed by Sweden Silex and Beijing FAB3 in 2018 were forced to terminate. Swedish Strategic Product Inspection Bureau
Under this background, Beijing
FAB3

continues to increase investment in research and development, independently accumulates basic processes, actively explores the production know-how of various
MEMS devices, and strives to provide customers in various fields such as communications, biomedicine, industrial automobiles, consumer electronics, etc, in particular, local customers in China provide high-quality
MEMS
process development and wafer manufacturing services, actively promote the company in the local formation and enhancement of independent and controllable MEMS manufacturing capacity, accelerate domestic substitution. 2019-2021 , the research and development expenses of Saiwei Microelectronics reached 1.10 .3 billion yuan, 1.95 .5 billion yuan and 2.66 .7 billion yuan respectively, accounting for 15.39 , 25.54 and 28.69 respectively. Beijing FAB 3 Clean Room Huang Guang District Corner
The verification of this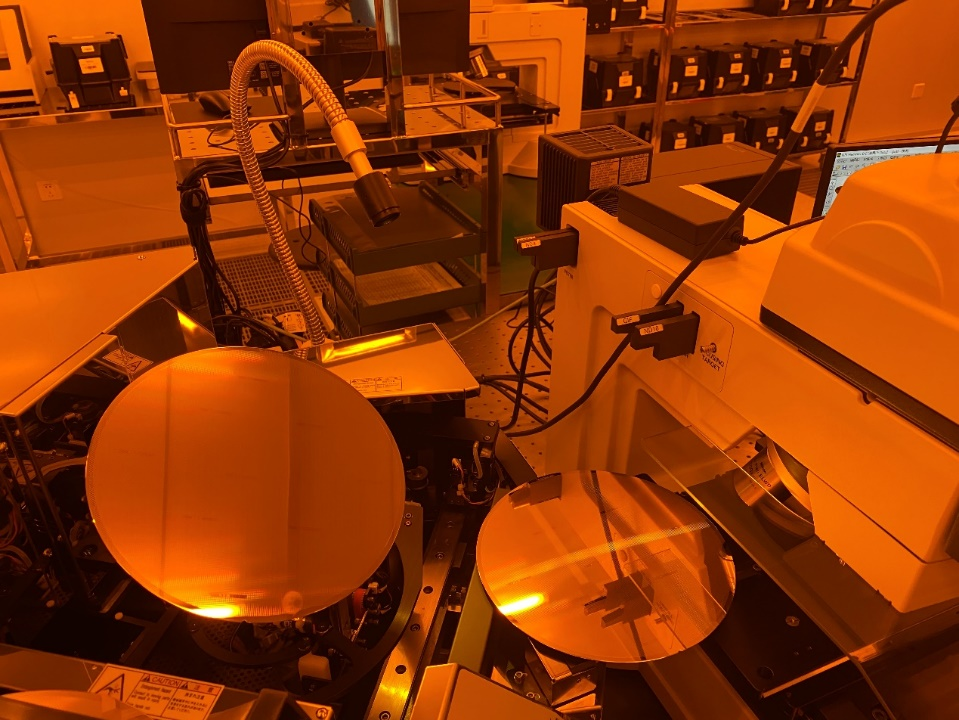 BAW
filter and the start of trial production mark Beijing
FAB3
's professional manufacturing capability in the field of MEMS high frequency communication devices has reached a new milestone, and the company's technical team will continue to work hard, continuously improve the process, improve the yield, as soon as possible to achieve the scale of the BAW filter mass production and continue to enrich the manufacturing sequence. Microelectronics welcomes extensive cooperation with MEMS designers in various fields around the world, especially in China, to contribute to the further development of China's MEMS industry ecology.
---