Saiwei Electronics was invited to co-organize the 2022 (14th) International Symposium on Sensor and MEMS Industrialization Technology (and Achievement Exhibition)
---
Recently, sponsored by the State Key Laboratory of Sensor Technology, Shanghai Institute of Microsystem and Information Technology, Chinese Academy of Sciences, and the Sensor and Microsystem Technology Branch of the Chinese Institute of Electronics, co-organized by Beijing Sai Microelectronics Co., Ltd., Guangdong Nanhai Semiconductor Investment Co., Ltd. The "2022 (14th) International Symposium on Sensor and MEMS Industrialization Technology (and Achievement Exhibition)" hosted by Shanghai Longmei Business Consulting Co., Ltd. was held in Foshan, Guangdong Province. This forum invited academic experts and scholars in the field of sensors and MEMS, leading companies in the field of sensors and MEMS, and representatives of high-tech start-ups to build an exchange platform for information exchange and cooperation between academia and industry. Mr. Yang Yunchun, Chairman of

Sai Microelectronics, delivered a keynote speech on "MEMS Advanced OEM Leader with Global Layout" at the meeting, introducing the company's development experience in the MEMS field. In his view, in line with the overall trend of the semiconductor industry, the MEMS industry market has both opportunities and challenges, including opportunities for the board, new infrastructure opportunities, and national support opportunities. Yole, a well-known semiconductor analyst, predicts that the global MEMS industry market will grow to $18.2 billion by 2026. As the world's largest manufacturing country and semiconductor consumer market, the next decade will also be the golden decade of China's MEMS industry.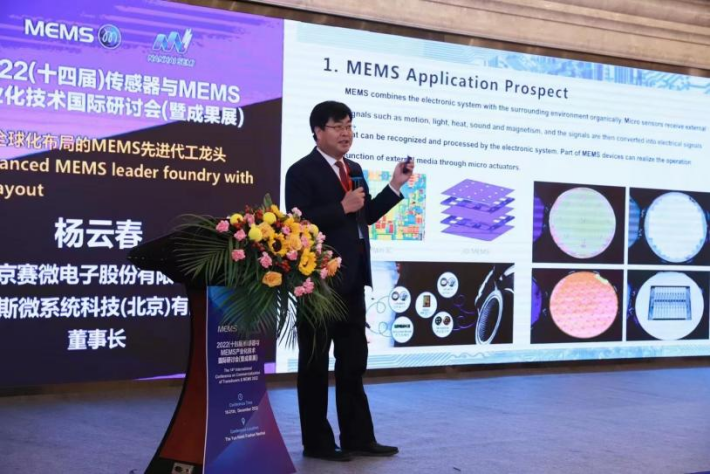 Based on 20 years of process development and manufacturing practice accumulation, Sweden Silex Microsystems, a wholly-owned subsidiary of Sai Microelectronics, further obtains common key processes through systematic analysis and classification of MEMS product process manufacturing technologies, extraction and comparative analysis of key manufacturing processes of various products. Then focus on research and development of these processes, IP deployment, and gradually build a modular large-scale MEMS process manufacturing system. These initiatives have been effective: Sweden's Silex Microsystems AB, a wholly-owned subsidiary of Microelectronics, ranked first in the world for MEMS wafer foundry for the third consecutive year in 2019-2021. In this meeting, Saiwei Electronics exhibited several representative products of Sweden's Silex(FAB1 & 2), including: [RF MEMS switch] RF MEMS switch is one of the most basic components of electronic systems, and electronic MEMS switch is an innovator of electronic systems, serving many industries, including the next generation 5G mobile network, industrial Internet of Things market, battery management, smart home, electronic vehicles and medical instruments. A MEMS switch is a low-loss, high-power switch that only needs a few picoamps to work, and its operation speed is 1000 times faster than a typical mechanical switch. MEMS Resonators are timing devices used to generate a highly stable reference frequency that can measure time. These reference frequencies can be used to sequence electronic systems, manage data transmission, define RF frequencies, and measure elapsed time. The MEMS oscillator has better resilience against vibration and mechanical shock and has reliability with respect to temperature changes. [MEMS Silicon Photonics] Silicon photonics technology is a method of guiding light in a planar arrangement of silicon-based materials, and is mainly used to create transmitters and receivers for fiber optic telecommunications. Silicon photonics is expected to revolutionize the optical communications market due to the ability to compress more transmitted information to a given bandwidth, a given footprint, and a given cost. The MEMS-based lab-on-a-chip chip is used for rapid early detection of diseases. It is the first fully integrated molecular diagnostics system to provide automated operation, integrating clinical sample preparation, nucleic acid extraction, and microfluidic real-time polymerase chain reaction (PCR) amplification and detection functions into a single stand-alone system. It can meet the requirements of batch processing workflow and on-demand testing at the same time to maximize laboratory efficiency and flexibility, and the system has been deployed in the battle against the new coronavirus. MEMS technology is a key enabler for future medical devices used inside the human body. The sample shows the world's smallest pressure sensor, which is used on a surgical catheter to locally measure blood pressure in the small coronary arteries of the human heart. This product is the world's first nanopore DNA sequencing platform with unique scalability from pocket-sized devices to ultra-high throughput devices. This technology provides the ability to sequence DNA or RNA fragments of any length (short or ultra long). Currently, this technology is used by researchers in human, plant, animal, microbial or environmental genetics in 100 countries around the world, and is also gaining popularity in application markets such as healthcare or food safety.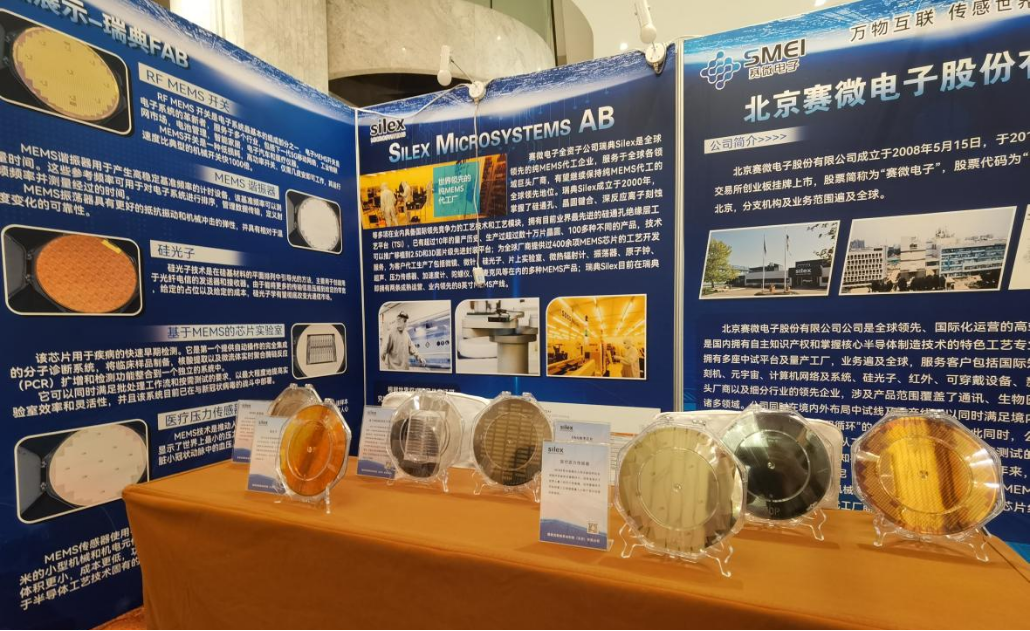 Syrex Beijing 8-inch MEMS International OEM Project is a key project of Beijing's integrated circuit industry. The company is a brother company with Sweden Silex, the world's largest pure MEMS OEM Microsystem. Relying on Sweden's Syrex's more than 20 years of technology accumulation and MEMS mass production experience, national experts take the lead in organizing process technology development, extensively absorb high-end talents from the semiconductor industry from all over the world, work together to build MEMS international foundry lines, accelerate the industrialization process of domestic MEMS sensor products, and promote the development and progress of China's MEMS technology. In this meeting, Saiwei Electronics exhibited several representative products of Sairex Beijing (FAB3), including: [Filter] BAW filter, whose index has reached the commercial use level, with the minimum insertion loss in band reaching below 1.5dB and the out-of-band suppression exceeding 30dB. The smaller the insertion loss value means the smaller the loss of the signal, which can reduce the energy consumption of the device, improve the receiving sensitivity of the signal and increase the communication distance of the device, and the larger the out-of-band suppression means the stronger the filtering ability of the interference signal, the purer the filtered signal, and the better the user experience of the product. [Microphone Products] Silicon microphone products with small diaphragm can effectively improve the strong sound pressure resistance and dustproof effect of silicon wheat with its special structure. At the same time, the signal-to-noise ratio of the product of this structure is> 62 dB, and the frequency response curve is flat at low frequency. The performance is more outstanding in silicon wheat of the same size. [Accelerometer] The three-axis accelerometer has the excellent characteristics of ultra-low power consumption, high sensitivity, stress resistance and stronger and more stable zero drift. The product can provide mg-level ultra-high resolution, can achieve 95% step counting accuracy in normal walking and running, and can be widely used in various scenes such as wearable devices, tablets, game consoles, remote controllers, etc. [Gas sensor] The gas sensor chip is manufactured based on MEMS technology. It adopts a suspended membrane structure and integrates a micro heater and an interdigital electrode. The micro heater is used to provide a suitable working temperature for the gas sensor, and the interdigital electrode is used to detect the gas sensor. The resistance change of the sensitive material. The gas sensor chip has the advantages of low power consumption (~ 30 mW), high reliability (Pt material), high sensitivity and long life (>10 Years@1.5V), which can be widely used in home environment monitoring, indoor fresh air system, intelligent home appliances, in-vehicle environment perception and other fields. [MEMS micro galvanometer (electromagnetic drive)] MEMS micro galvanometer, this product is used for 2D scanning of electric vehicle lidar, and has passed the drive test and reliability verification of on-board products. Through the implementation of ion implantation, coil plating, deep silicon etching to form suspension cantilever, temporary bonding and de-bonding and other processes, the electromagnetic drive micro-mirror is manufactured. The galvanometer can achieve fast axis, slow axis of 2D scanning to form +/- 12 deg electromagnetic drive. The product has a good rate of> 75% at this stage. [Second Generation Gene Sequencing] Through Silex integration's unique method, it can be compatible with Si substrate,Quartz wafer and Glass wafer. This product is a second-generation gene sequencing chip, and the whole wafer is covered with 1-2 um micro-pit structure. After the subsequent modification of hydrophilic and hydrophobic DNA functional groups, and the microchannel glass substrate with glue bonding, DNA, protein, nucleic acid molecules and so on are formed. The AOI yield of the product is> 98.6%. [CMOS wafer reprocessing capability] Silex can carry out subsequent processing on mature IC chips made by. 18 with the continuous deep cultivation of process lithography technology, dielectric layer etching technology, deep silicon etching and other technologies. These include 1.2 um open dielectric etching (Oxide/FSG/BPSG/SiN) with aspect ratio> 8:1. And carry out <1 um opening for deep silicon etching, depth-to-width ratio> 28:1. This process capability helps in the field of optical communication, gene sequencing and so on at this stage.
In 2016, Saiwei Electronics completed its controlling acquisition of Silex at a price of 0.75 billion yuan. Silex became a wholly-owned subsidiary of Saiwei Electronics and was also one of the core factories of Saiwei Electronics MEMS business segment. In September 2020, the 8-inch MEMS international contract manufacturing project of Selex will be completed. Under the background that the transnational transfer of technology encountered the interference of the Swedish Inspectorate of Strategic Products (ISP), the formal production will be realized in June 2021. Saiwei Electronics has both advanced and high-quality 8-inch MEMS production lines in Stockholm, Sweden and Beijing, China, and Sweden and Beijing MEMS production lines are continuing to build new capacity. From the positioning point of view, Beijing MEMS production line can provide standardized scale production capacity, and build a world-class MEMS foundry service platform on the basis of accumulating common key process manufacturing technologies, which is conducive to Saiwei Electronics to further expand the global market, especially in Asia, and better serve downstream customers. At the same time, it will continue to expand the competitive advantage of the company's MEMS business and continue to maintain its global leading position in the field of MEMS pure foundry. In recent years, the global sensor market has maintained rapid growth. Under the background of good application prospect of MEMS sensors and accelerated localization process, Saiwei Microelectronics has laid out pilot and mass production lines at home and abroad to meet the different needs of customers at home and abroad. It is committed to forming a foundry service system that can support "internal circulation" and "double circulation". At the same time, the company is building advanced wafer-level packaging and testing capabilities, committed to providing customers with one-stop systematic high-end manufacturing services from process development, wafer manufacturing to packaging and testing, and strive to develop into a well-known international semiconductor manufacturing leader.

---