Saiwei Electronics was invited to participate in the 2022 Beijing Microelectronics International Symposium and IC WORLD Conference
---
Recently, the 2022 Beijing Microelectronics International Symposium and IC WORLD Conference was held in Beijing Economic Development Zone. The conference was hosted by the Beijing Municipal Bureau of Economy and Information Technology and the Beijing Economic and Technological Development Zone Management Committee. Beijing Semiconductor Industry Association (CBSIA), International Semiconductor Industry Association (SEMI), Zhongguancun Integrated Circuit Industry Alliance (ZIA), Northern Integrated Circuit Technology Innovation Center (Beijing) Co., Ltd., Beijing Yizhuang Investment International Investment Development Co., Ltd., Beijing Superstring Memory Research Institute and other units jointly undertake.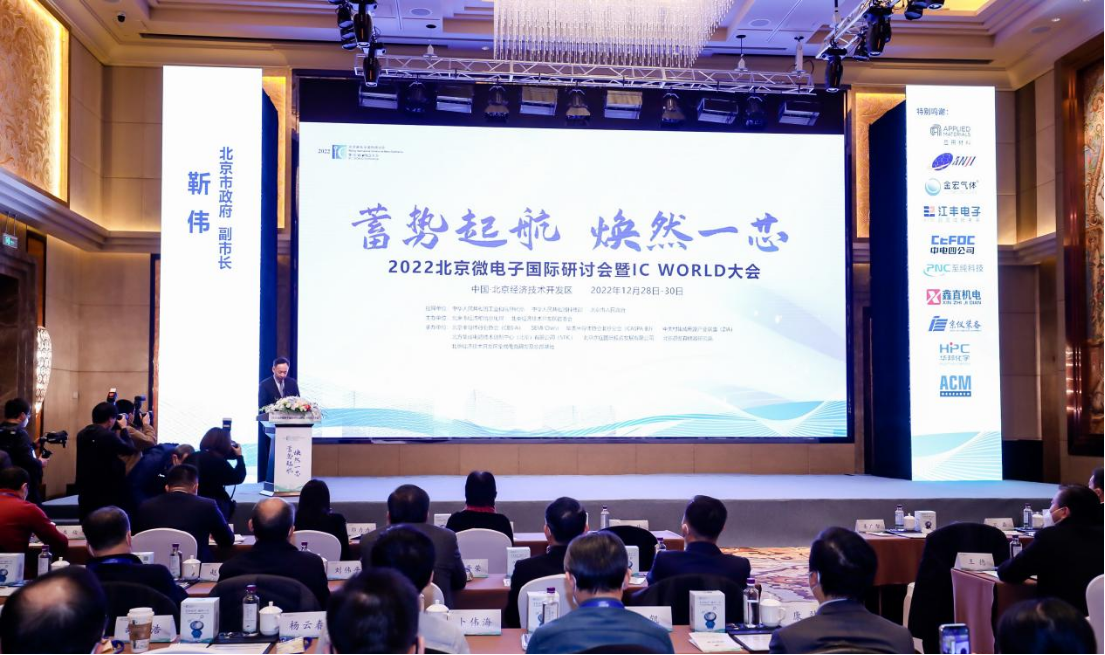 The theme of this conference is "Building up the momentum to set sail and rejuvenate the core". Academic conferences and expositions will be held at the same time. By tracking the development trends of the integrated circuit industry, the group strength of the global semiconductor industry will be gathered. Actively promote the formation of a new trend of the linkage development of the integrated circuit industry chain, and strive to create an industry event with the three characteristics of "integration, chain, promote the event to become a promoter and witness of China's integrated circuit power.

The academic conference of the 2022 Beijing Microelectronics International Symposium and IC WORLD Conference consists of a summit forum and 10 sub-forums. Hundreds of experts, scholars and business leaders from the world's top universities, research institutions and integrated circuit enterprises will conduct professional, scientific and international high-level academic exchanges around the current situation and trend of the development of the integrated circuit industry in 2022, it provides a broader idea for the development of integrated circuit industry in China and Beijing. Huada Jiutian, North Huachuang, Saiwei Electronics and other key integrated circuit listed companies in Beijing, Beijing Science and Technology Innovation Fund, Beijing Open Source Chip Research Institute, Tsinghua University, Beijing University of Aeronautics and Astronautics and other financial and university scientific research institutions in the field of integrated circuits Relevant persons in charge were invited to attend the conference and give keynote speeches. Mr. Yang Yunchun, chairman of Saiwei Electronics, delivered a keynote speech of "MEMS advanced foundry leader with global layout" at the meeting, introducing the company's development experience in the field of MEMS. In order to cope with the possible changes in the current and future international situation, although facing various challenges, the general tone of Saiwei Electronics's global layout remains unchanged, and it still insists on the global capacity layout, at the same time, the "double cycle" foundry service system with both "process development" and "wafer manufacturing" functions is deployed at home and abroad to meet the pilot and mass production needs of customers at home and abroad. Yole, a well-known semiconductor analyst, predicts that the global MEMS industry market will grow to $22.3 billion by 2027. As the world's largest manufacturing country and semiconductor consumer market, the next decade will also be the golden decade of China's MEMS industry. The

conference exhibition covers an area of about 3000 ㎡, and the booth covers an area of about 1000 ㎡, covering integrated circuit equipment and spare parts, factory services, wafer processing materials, integrated circuit production intelligent systems and indirect consumables with manufacturing as the core. Nearly 70 units were invited to participate in the exhibition to fully display the latest achievements and applications, in order to achieve the goal of the industry to jointly promote the healthy and rapid development of the integrated circuit industry. yang xiuling, secretary of the working committee of the beijing economic and technological development zone, accompanied vice mayor jin wei to inspect the exhibition hall.
At this meeting, Saiwei Electronics mainly demonstrated its MEMS business sector, including the industry-leading wafer production process and growing foundry capacity and production capacity of its wholly-owned subsidiary Silex Sweden, as well as the latest product development and foundry of the 8-inch MEMS international foundry line in Sairex Beijing, attracting consultation and exchange from many exhibitors.

Sai Microelectronics has many pilot test platforms and mass production factories at home and abroad, and its business covers all over the world. Its service customers include internationally renowned DNA/RNA sequencers, lithography machines, meta-universe, computer networks and systems, silicon photons, infrared, wearable devices, new medical devices, automotive electronics and other giant manufacturers and leading enterprises in subdivided industries, the range of products involved covers many fields such as communications, biomedicine, industrial automobiles, and consumer electronics. At the same time, the company lays out pilot lines and mass production lines at home and abroad to meet the different needs of customers at home and abroad. It is committed to forming a foundry service system that can support "internal circulation" and give consideration to "double circulation". At the same time, the company is building advanced wafer-level packaging and testing capabilities, and is committed to providing customers with one-stop systematic high-end manufacturing services from process development, wafer manufacturing to packaging and testing, efforts to develop into an international operation of the well-known semiconductor manufacturing leading enterprises. Sellex Beijing is an 8-inch MEMS international foundry line project company jointly invested by Beijing Sellex International Technology Co., Ltd., a wholly-owned subsidiary of Sellex Microelectronics, and the National Integrated Circuit Industry Investment Fund Co., Ltd. It is mainly engaged in MEMS (abbreviation of Micro-Electro-Mechanical Systems, namely micro-electro-mechanical system, abbreviated as micro-electro-mechanical system) production foundry business.
---