Chairman Yang Yunchun Invited to Participate in Beijing Private Entrepreneurs Symposium
---
On the morning of October 25, 2018, the Beijing Municipal Party Committee and Municipal Government held a symposium for private entrepreneurs. Cai Qi, member of the Political Bureau of the Central Committee and secretary of the Beijing Municipal Party Committee, and Chen Jining, deputy secretary of the Municipal Party Committee and Mayor, attended the symposium. Mr. Yang Yunchun, Chairman of Beijing Naiwei Technology Co., Ltd., was invited to participate in the symposium as a representative of private entrepreneurs. At the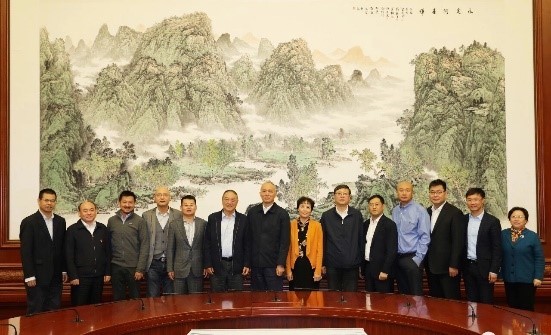 symposium, Secretary Cai Qi emphasized that we must adhere to the guidance of Xi Jinping Thought on Socialism with Chinese Characteristics for a New Era, adhere to the "two unshakable", continue to optimize the business environment, and encourage and support the private sector Economic prosperity and development. Secretary Cai Qi pointed out that General Secretary Xi Jinping's reply to private entrepreneurs fully affirmed the indelible historical contribution of the private economy, emphasized that the status and role of the private economy are beyond doubt, and supporting the development of private enterprises is the consistent policy of the Party Central Committee and will not waver. This is of great significance for promoting the development of the private economy and maintaining the current good momentum of the economy.
Secretary Cai Qi pointed out that this symposium is to release positive signals to market players and stabilize social expectations. my country's economic development momentum has not changed, the market potential is huge, and the development environment of the private economy will get better and better. The capital has unique development resources, and the business environment is constantly optimized and improved. I hope that private entrepreneurs in the city will be good at looking at the overall situation, long-term, and good at seizing opportunities in challenges, find a new way out in difficulties, make full use of the advantages of the capital, maintain concentration, strengthen confidence, and strive to achieve new leaps.
Secretary Cai Qi emphasized that all departments at all levels in Beijing must effectively provide assistance to the development of private enterprises, provide good services, and vigorously promote the high-quality development of private enterprises. It is hoped that the vast number of private entrepreneurs will practice their internal skills in a down-to-earth manner, constantly enhance their core competitiveness, and become better and stronger. We should focus on the main business, speed up the transformation and upgrading, strengthen the physical investment, and focus on our own advantages to run the enterprise well. It is necessary to strengthen innovation and development, increase investment in new technologies, new industries, new formats, and new models, strengthen independent innovation, and make new breakthroughs in key core technologies. It is necessary to properly respond to external challenges, actively adjust and broaden import and export channels, strengthen cooperation in the entire industry chain, and achieve group development. We should prevent and control operational risks, strictly control the level of debt, and enhance our ability to resist risks. We must also fulfill our social responsibilities and maintain stable employment. Mayor Chen Jining pointed out that Beijing will fully implement the spirit of the important instructions of the CPC Central Committee and General Secretary Xi Jinping on adhering to the "two unshakable" and promoting the development of the private economy, unswervingly support the private economy, and make every effort to provide help and create conditions for the development of private enterprises in Beijing. Beijing will continue to improve the inclusive business environment, accelerate the implementation of targeted measures to support the development of private enterprises, and make good use of market-oriented means to help private technology-based enterprises resolve liquidity risks. Support private enterprises to seize the major opportunities of technological revolution and consumption upgrading, strengthen the promotion of deep science and technology, hard science and technology innovation, promote the combination of manufacturing and consumption, manufacturing and service industry, constantly enhance their core competitiveness, and accelerate their own transformation and upgrading. At the
symposium, Chairman Yang Yunchun introduced the business layout and development of Neville Technology since its listing, explained the difficulties encountered in the company's development process and made suggestions. Closely centering on the two major industrial chains of the Internet of things and military electronics, Neville Technology has made great efforts to expand various businesses, and has formed an overall pattern with the three pillar businesses of "MEMS, navigation and avionics" as the core. intelligent manufacturing, unmanned systems, third-generation semiconductor materials and devices as reserves, industrial investment business as the traction, and actively grasp the trend of the development of the Internet of things and military-civilian integration. Neville Technology hopes to develop into a first-class private technology enterprise group through hard work, and contribute to the scientific and technological progress and economic take-off of the motherland.
Other private entrepreneurs invited to participate in this symposium include: Liu Chuanzhi, chairman of Lenovo Holding Company, Zhang Ying, founder of Jingwei Venture Capital China Fund, Liu Zhishuo, founding partner of Zhongguancun Dahe Capital and founding partner of Zhongguancun M & A Fund of Funds, Li Jun, chairman and president of Liad Group, Nie Liya, deputy general manager of Beijing Northland Biotechnology Company, Shu Chang, founder and CEO of Beijing One Space Technology Company, and Shao Gen Gen Agricultural Group, mu Lijie, chairman of Beijing Ainon Pension Service Company, and Zhang Jinfang, chairman of Beijing Jichuang North Technology Company.
---